Angry Robot nominated in the World Fantasy Awards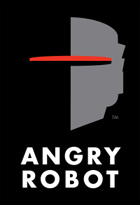 Those young, bright and yet still Angry Robot's have a number of nominations in this years World Fantasy Awards - due to be presented at the World Fantasy Convention in October of this year.
The Arthur C Clarke award winning novel Zoo City by Lauren Beukes is shortlisted for best novel while the artist who penned the US cover of said book (John Picacio)  is nominated for Best Artist. Vincent Chong who created the artwork for the Matt Richter series and the upcoming Darkness Falling cover is also nominated for the same award.
As if that wasn't sufficient to stroke those mechanical ego's, Lavie Tidhar is nominated for the Non-Professional Special Award and the Robot Overlord himself Marc Gascoigne is nominated for the Special Award, Professional.
Congratulations to everyone nominated!