Winners of the 2009 Locus Awards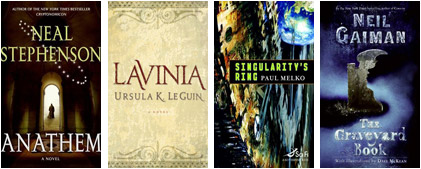 The Winners of the 2009 Locus Awards have been announced during a ceremony in Seattle, USA. The winners include Neal Stephenson for "Anathem" in the Science Fiction category , Ursula K Le Guin for "Lavinia" in the Fantasy category and Neil Gaiman for his Young Adult novel "The Graveyard Book".
The Locus awards are an annual competition voted for by the readers of the magazine and was established in the early 1970's to provide recommendations and suggestions to Hugo Awards voters. Since that time the Locus Awards have grown and have often drawn many more voters than the Hugo Awards themselves.
Unlike any other Award, the Locus Awards explicitly honor publishers of winning works with certificates.
Previous winners have included Terry Pratchett (many times), Neil Gaiman, Kim Stanley Robinson and George R. R. Martin.
You can see this years full list here:
Locus Award Winners 2009
Science Fiction Novel:

Anathem

by Neal Stephenson
Fantasy Novel:

Lavinia

by Ursula K. Le Guin
First Novel:

Singularity's Ring

by Paul Melko
Young-Adult Book:

The Graveyard Book

by Neil Gaiman
Novella:

Pretty Monsters

by Kelly Link
Novelette:

Pump Six

by Paolo Bacigalupi
Short Story:

Exhalation

by Ted Chiang
Anthology:

The Year's Best Science Fiction: Twenty-Fifth Annual Collection

by Gardner Dozois
Collection:

Pump Six and Other Stories

by Paolo Bacigalupi
Non-Fiction/Art Book:

Coraline: The Graphic Novel

by Neil Gaiman, adapted and illustrated by P. Craig Russell
Editor:

Ellen Datlow

Artist:

Michael Whelan

Magazine:

F&SF

Publisher:

Tor