Terry Pratchett to be knighted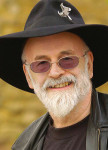 Terry Pratchett is amongst entertainment figures to be knighted for his services to literature in the new years honours list. Sir Terry is quoted as saying:
"There are times when phrases such as 'totally astonished' just don't do the job."
And also went on to say:
"I am of course delighted and honoured and, needless to say, flabbergasted."


Sir Terry is one of the most successful and most popular Authors in Britain, having sold in excess of 55 million books to date. Last year he was diagnosed as having early onset Alzheimer's and has since campaigned to raise awareness of the illness. The Chief Executive of the Alzheimer's Society said of the achievement:
" I would like to congratulate Terry on this fantastic and well-deserved achievement.."
He also went on to say:
"Terry is not only a successful author and well-loved public figure; he is also playing a key role in fighting the misunderstanding and stigma surrounding dementia.."
The news has been a delight to his many fans who hope to read many more books from this much loved author in the future.