Terry Pratchett, Living with Alzheimer's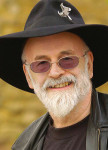 Sir Terry Pratchett (OBE) has been working with the BBC to film a special 2 part documentary about how he is living, coping and fighting early onset Alzheimer's.
The series shows Sir Terry's personal journey through the reality of being diagnosed with Alzheimer's, and his quest to understand the condition as he endeavours to find ways of slowing, mitigating or even reversing its course.
The first part of the documentary starts at the beginning of 2008 shortly after Sir Terry's diagnosis, having been a hugely productive and successful author, writing over 47 novels and selling over 60 million books worldwide, the prospect on not being able to remember or write really frightens him. He says:
"I used to be a high speed touch typist. I laughed in the face of the spell checker. But then one day last year, it all started to go wrong."
As he begins to understand the condition he is surprised by just how subtle the effects and symptoms of the disease actually are. Meeting other people who share his rare condition allows him to glimpse the various stages the illness takes along the journey.
In the second part of the documentary Sir Terry contemplates his future and the difficulty of facing the inevitable 'end game.' He travels to the USA to learn first hand how Americans are dealing with the 'tsunami of Alzheimer's' that is threatening their health care to find out if they are closer to beating the disease.
"If you're diagnosed with early onset Alzheimer's, you feel as though you're standing on a beach and the tide has gone out and so has everybody else. There's no one there."
Terry meets the a doctor who has recently come across a controversial new Alzheimer's treatment which he claims produces remarkable results in minutes. He also confronts his probable future by visiting a care home devoted to residents with dementia, whilst evaluating the difficult dilemma thousands of carers are faced with when dealing with a loved one who can't look after themselves.
Terry is still very determined to rid the stigma that is still attached to this illness and also to find a treatment, if not a cure. The first part of the documentary is due to be broadcast on BBC2 at 9.00pm on the 4th February 2008 with the second part broadcast on the again at 9.00pm 11th February.