South Arfrica's greatest export to visit UK
South Africa's greatest export (in our opinion) Lauren Beukes, hit the literary scene last year with the an ultra-smart urban science fiction novel Moxyland which showed a grim vision of a near future Cape-town. Moxyland recieved critical acclaim when first launched by Angry Robot Books in July 2009 and has been nominated for a number of awards.
This year sees the launch of her second novel, again published by the hotest newly independant publisher of scifi and fantasy - Angry Robot Books. Zoo City is released on the 1st September 2010 and Lauren Beukes is making a special trip to London in good old blighty as a very special guest of the British Science Fiction Association (BSFA) on this next Wednesday evening (28th July 2010) , she will be performing a short reading, followed by an interview.
Lauren will also be signing the (extremely limited) hardback edition of Zoo City at the Forbidden Planet Megastore on Thursday evening and wille be the guest of the British Fantasy Society (BFS) on Saturday afternoon.
If you are near London or can make it down there, you don't even have to be a member of the BSFA or BFS to come along to these events and we can assure you it will be worth the effort.
I love deadlines. I like the whooshing sound they make as they fly by.
Book of the month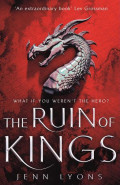 The Ruin of Kings by Jenn Lyons
A Message from SFBook
SFBook is entirely funded by Ant including hosting, development and any other costs.
If you enjoy the site please consider a small donation towards the cost of the upkeep and development of SFBook.