Short-list for the British Fantasy Awards 2009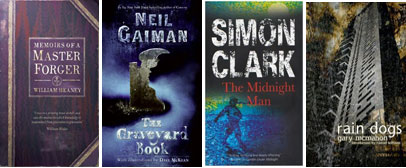 The Short-list for the 2009 British Fantasy Awards has been announced, with nominations including Neil Gaiman's "The Graveyard Book" which is being nominated for the the august derleth fantasy award and Tim Lebbon's "The Reach of Children" for best novella.
Also nominated are Stephen King for both the short fiction story "N" and also Best Collection with "Just After Sunset" and Doctor Who producer / writer Russell T Davies for his non fiction book "Doctor Who: The Writer's Tale".
finally, Doctor Who has been nominated for best television (we hope it wins), the winners will be revealed at FantasyCon 2009 which is being help at the Britannia Hotel, Nottingham between the 18th and 20th of September.
Fantasycon, organised by the British Fantasy Society has been running for more than 30 years and was originally held in birmingham. This years master of ceremony is none other than Ian Watson and includes guests of honour Jasper Fforde, Brian Clemens and Gail Z Martin.
You can see the full list below:
Best Novel (The August Derleth fantasy award)
Memoirs of a Master Forger

- William Heaney/Graham Joyce

Rain Dogs

- Gary McMahon

The Graveyard Book

- Neil Gaiman

The Victoria Vanishes

- Christopher Fowler

Midnight Man

- Simon Clark

Thieving Fear

- Ramsey Campbell
Best Novella
Gunpowder

- Joe Hill

The Narrows

- Simon Bestwick

Cold Stone Calling

- Simon Clark

The Reach of Children

- Tim Lebbon

Heads

- Gary McMahon
Best Short Fiction
All Mouth

- Paul Meloy

The Caul Bearer

- Allyson Bird

Do You See

- Sarah Pinborough

The Tobacconist's Concession

- John Travis

The Vague

- Paul Meloy

Pinholes in Black Muslin

- Simon Strantzas

Winter Journey

- Joel Lane

N

- Stephen King
Best Graphic Novel / Comic
?

30 Days of Night: Beyond Barrow

- Steve Niles/Bill Sienkiewicz

Hellblazer: The Laughing Magician

- Andy Diggle/Leonardo Manco & Daniel Zezelj

All-Star Superman

- Grant Morrison/Frank Quitely
Locke and Key - Joe Hill/Gabriel Rodriguez

Comic Book Tattoo Tales Inspired by Tori Amos

- Ed, Rantz A. Hoseley & Tori Amos/ Various

The Girly Comic Book 1

- Ed, Selina Lock

The New Avengers: Illuminati

- Brian Bendis & Brian Reed/Jim Cheung

Buffy Season Eight Vol. 3: Wolves at the Gate

- Joss Whedon & Drew Goddard/ Georges Jeanty

Hellblazer: Fear Machine

- Jamie Delano
Best Anthology
Myth-Understandings

- Ian Whates

Subtle Edens

- Allen Ashley

The Mammoth Book of Best New Horror 19

- Stephen Jones

The Second Humdrumming Book of Horror

- Ian Alexander Martin

We Fade To Grey

- Gary McMahon

Cone Zero

- DF Lewis
The PS Best small press award
??

Elastic Press

- Andrew Hook

Newcon Press

- Ian Whates

TTA Press

- Andy Cox

Pendragon Press

- Chris Teague

Screaming Dreams

- Steve Upham
Best Collection
Bull Running for Girls

- Allyson Bird

Just After Sunset

- Stephen King

Islington Crocodiles

- Paul Meloy

Glyphotech

- Mark Samuels

How To Make Monsters

- Gary McMahon
Best Artist
Lee Thompson

- The Land at the End of the Working Day

Les Edwards

- Various

Edward Miller

- Vault of Deeds

Vincent Chong

- Various

Dave McKean

- The Graveyard Book
Best Non-fiction
Basil Copper: A Life in Books

- Ed, Stephen Jones

Mutant Popcorn

- Nick Lowe

Doctor Who: The Writer's Tale

- Russell T. Davies and Benjamin Cook

journal.neilgaiman.com

- Neil Gaiman

What Is It We Do When We Read Science Fiction

- Paul Kincaid
Best Magazine
Black Static

Midnight Street

Interzone

Postscripts

SFX
Best Television
Battlestar Galactica

Supernatural

Dead Set

Dexter

Doctor Who
Best Film
Cloverfield

The Mist

Iron Man

The Dark Knight

The Orphanage