New Doctor Who filming begins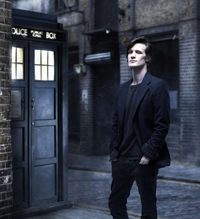 Production of the new series of Doctor Who, featuring the 11th Doctor (played by Matt Smith), began this week along with his new companion Amy Pond (played by Karen Gillan).
On arrival in Cardiff for the very first day of filming, Matt said:
"I feel very privileged and proud to be part of this iconic show. The scripts are brilliant and working alongside Karen, Steven and the rest of the crew is an inspiration because their work ethic and passion for the show is so admirable. I'm excited about the future and all the brilliant adventures I get to go on as the Doctor."
The development of the new show is being lead by Doctor Who fan Steven Moffat who will be ultimately responsible for the creative direction of the show along with the plot and character arcs.
Steve has already worked on previous Doctor Who episodes including the BAFTA award winning "Blink" and has gained widespread acclaim by critics and fans alike.
Steven commented about the series:
"And here it is, the big moment - the new Doctor, and his new best friend. And here's me, with the job I wanted since I was seven. 40 years to here! If I could go back in time and tell that little boy that one day all this would happen, he'd scream, call for his Mum and I'd be talking to you now from a prison cell in 1969. So probably best not then. Matt and Karen are going to be incredible, and Doctor Who is going to come alive on Saturday nights in a whole new way - and best of all, somewhere out there, a seven-year-old is going to see them, fall in love, and start making a forty year plan..."