New David Gemmell Legend Award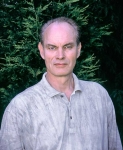 Preperations are well underway to present the new David Gemmell award for Fantasy which will be presented to the best Fantasy novel of the year 2008.
This award has been instigated by the colleagues and friends of the Late David Gemmell, with official support from his wife Stella Gemmell and will cellebrate Davids Life and his contributions to writing.
Nominations are currently being sought from the editors of every major fantasy list for Fantasy novels that have been published in 2008 in English. To qualify a novel must be deemed to be fantasy in the spirit of David's own work.
After a novel has been successfully nominated it will be voted on by the general public on the website. Voting is open till March 2009, giving a change as many people to vote as possible. The Top 5 novels will then be shortlisted with the final winner being decided by a panel of fantasy experts.
The award itself will be a replica of "druss the Legend's" battleaxe "Snaga" and will be presented in June 2009.
There is still plenty of time to vote for your favorite so head on over to the website here.