MP calls on government to protect independent booksellers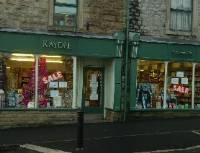 An MP in the Ribble Valley has called on the government to protect independent booksellers after a much loved and well known independent book shop, Kaydee bookshop, in Clitheroe, Lancashire is having to close it's doors.
Kaydee Bookshop was named independent bookseller of the year in 1992, but due to to the incredibly tough current market is having to close down at the end of this month, after 60 years in business. This will mean the loss of nine jobs.
This follows earlier news that the UK's only specialist crime bookshop, Murder One in London, will also close at the end of January, and adds to official figures that show the number of independent bookshops in the UK has plummeted by 22% in the last 10 years, with just 1,390 still open according to the most recent count last summer, compared to 1,774 in 1999.
The Conservative MP for the Ribble Valley, Nigel Evans believes that this closure marks the problems of the current economic policy. He has tabled an early day motion in parliament calling on the government "to ensure that small and medium-sized businesses get the support they both need and deserve in order that they may survive the recession".
He also said:
"Kaydee was lovely - absolutely homely, and it had been going for 60-odd years. If you want places like Clitheroe to flourish with the independent sector flourishing there as well, we need to look at how we're going to do that ... I want the government to look at the situation to see what they can do for small to medium-sized businesses."
He has also asked publishers to give more support to independent bookshops
"Publishers should be careful - if they're going to be relying on a small number of very large outlets like Amazon, Tesco and Sainsbury's, they are going to be at their mercy ... it's in their own interests to have a large number of outlets."
The owner of Kaydee, Mark Bunch admitted that although the store had a good loyal customer base, the business had been operating at a loss for five years. He was also reluctant to blame the closure purely on the current economic crisis as he has noticed a decline in book sales beginning six or seven years ago.
He believes this is due in part to the death of the high street with more and more towns becoming clones with very few local businesses. The second reason for this loss he blames on the rise of on-line shopping as more people are turning to the internet for lower cost books.