Kylie joins the Angry Robots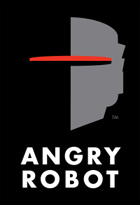 Kylie joins those lovable but yet very angry robots and before I get sued, I don't actually mean that petite female singer but the equally impressive Australian Author Kylie Chan.
Author of the hugely successful Dark Heavens Trilogy, Kylie has been signed by Angry Robot to distribute the impressive novels outside of Oz.
All 3 volumes of the Dark Heavens trilogy: White Tiger, Red Phoenix and Blue Dragon will be released in April 2010 in the UK and May, June and July respectively in the US/Canada.