Is Amazon Launching a New Kindle?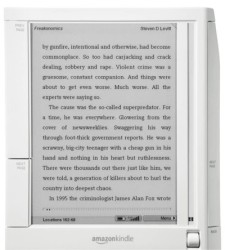 Is Amazon Launching a New version of the Kindle?, there is much speculation swirling around the internet after a picture was spotted with a sleeker looking Kindle reader. Amazon haven't done anything to deny the rumor, instead they have organised a press conference on 9th February at the New York Morgan Library & Museum.
The event will be overseen by Chief executive Jeff Bezos, which is being held less than a mile from the hotel where the company unveiled the original Kindle.
The Kindle, which is still only available in the USA, has been a moderate success - allowing Amazon to quickly take command of the small but much-heralded electronic book market. The current $359 (£253) model sports a six-inch screen and 256MB of memory, although its Whispernet wireless download system only works in the United States.
Some observers say they expect a thinner, more robust body and a more user-friendly approach - but it remains unclear whether the gadget will ever be available to buy in Europe, at present the only reader of significance in the UK is the Sony Reader, widely advertised on the high street by Waterstones.
Although sales figures for the first-generation Kindle remain unclear, industry analysts have regarded it as a good first step: the gadget sold out at launch, and demand has continued to outstrip the company's inventory. Prospective buyers currently face waits of four to six weeks to get their hands on one.