Ian McDonald nominated for Warwick Prize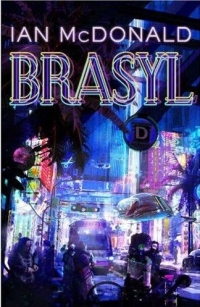 Science Fiction author Ian McDonald has been nominated for the Warwick Prize for his novel Brasyl.
The Warwick Prize is an biennial international cross-disciplinary award open to literature in any genre or form in the English language. An author winning this award stands to get £50 000 prize money.
Ian McDonald who won the 2008 British Science Fiction Association, began writing at the tender age of 9 years old and sold his first story at 22.
His novel Brasyl is actually three stories about three different Brazil's, 19th century, contemporary and futuristic. This novel has been widely regarded as Ian's finest to date.
Ian is amongst a list of 20 other authors including New York music critic Alex Ross and 2008 Man Booker prize long list Joseph O'Neill. Entries include 12 non fiction and 8 fiction from countries including Croatia, America, Canada, Australia, UK, Ireland, Spain and Columbia.
A shortlist of six titles will be announced on 23 January 2009 with the winner being announced on 24 February 2009 at the University of Warwick.
You can read more about the competition here: Warwick Prize for Writing