Gollancz April 2015 Paperbacks
This month Gollancz paperback releases include a number of unmissable novels.
Paperback of the month is Peter Higgins Truth and Fear, the superb follow-up to the singular novel Wolfhound Century - SFBook of the year for 2013 and a 21st century classic in the making. Set in an alternative Russia with a vast forest and ancient god-like powers, Truth and Fear continues the story of Wolfhound Century and is everything a follow-up book should be, rich, rewarding and one of the finest novels you could read this year or any other.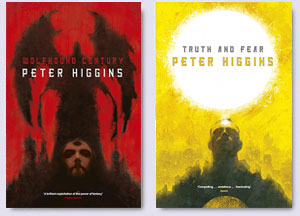 This months SF Masterworks and Fantasy Masterworks releases include Tim Powers Expiration Date — the second novel in the Fault Line series. Following on from Last Months Fantasy Masterworks novel Last Call, Expiration Date follows Koot Hoomie "Kootie" Parganas and Pete "Teet" Sullivan as they both chase their own ghosts across Los Angeles and are in turn hunted by others who use ghosts in a way others wouldn't even imagine. Nominated for both a Nebula and World Fantasy Award, it is an under-appreciated classic.
Robert Silverberg's Downward to the Earth follows one mans journey across a planet that was once colonised by man before being abandoned following the discovery that the native species were sentient. Returning after the planets inhabitants have re-gained independence, Edmund Gunderson finds himself involved in a rebirth ceremony and begins to understand the native creatures and their unique abilities. Originally published as a four-part serial in the Galaxy Science Fiction magazine, Downward to the Earth was later published as a full-length novel and nominated for the Locus Award in 1971.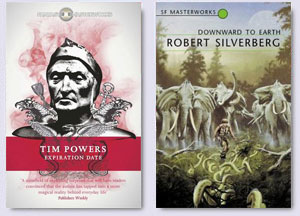 Hard to be a God by the Russian authors Arkady Strugatsky and Boris Strugatsky follows Anton, a 22nd Century observer on a planet of humans whose technology has not progressed past Earths Middle Ages. The title refers to Anton as his role as observer and set rules against interfering with the natural progression of the planet — very much in the vein of Star Treks "prime directive". Hard to be a God is set within the authors Noon Universe (named after the first novel in the series Noon: 22nd Century) which shares a few utopian properties of early Star Trek but by a very different journey. It's been adapted to stage, screen and video game and has been highly regarded by many. Theodore Sturgeon has said that Hard as a God is:
one of the most skillfully written, heavily freighted sf novels I have ever read.
Other paperback releases include Barricade by Jon Wallace, reviewed on SFBook last year, its a post-apocalyptic ride across a savage British landscape, told from the perspective of the cold-blooded artificial antihero Kenstibec. It's an action-packed and humorous journey that belies the serious tone beneath. If you like your fiction post-apocalyptic then Barricade should be in your collection.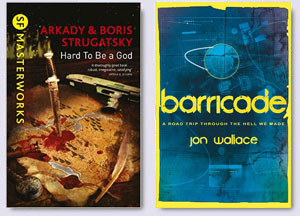 If you've ever read a fighting fantasy book, or you want a bit more interaction when reading then you really should check out Michael J Ward's Destiny Quest series. It's like the World of Warcraft, 21st century version of fighting fantasy and the latest in the series The Eye of Winters Fury is included in this months releases. The third book in the series, you take the role of Prince Arran known as the ghost prince — second heir to the throne of Valeron — as war comes to the land. Can you rise above your reputation as a sickly boy who haunts the palace library and forge a path to victory?
Lastly in the list is Mirror Sight by Karen Britain, the fifth novel in the Green Rider series. Although it is five books into a series, Mirror Sight is entirely accessible to anyone — regardless of having read any of the previous books in the series. The book follows Karigan G'ladheon, a seasoned member of the royal messenger corps (known as Green Riders) who finds herself transported to a strange place after a magical explosion that should by all rights have left her dead.