Get your name in Peter F Hamilton's next book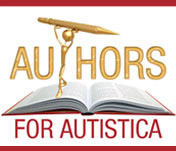 Science in the service of Autism, known as Autistica are the UK's largest charity raising funds for medical research that will improve diagnosis, advance new treatments and discover the causes of autism.
In an effort to raise funds for this very worth while cause, a number of very well known authors have agreed to include real people's names as Characters in their next books. This is being done as auctions on Ebay and authors taking part include Peter F Hamilton, Ken Follett, David Mitchell, Darren Shan and Allan Warner (amongst others).
A very worthy cause, if you have always fancied your name in print then why not put in a bid, it's all for a good cause, you can see the auctions here, you need to hurry though as the Peter F Hamilton auction ends this Sunday!