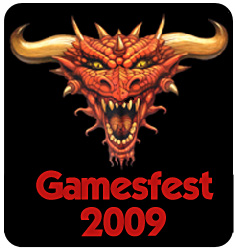 Gamesfest is one of the biggest game conventions in the UK, and this years looks set to be an outstanding event.
Scheduled at the Watford Colosseum on the 24th October 2009, Gamesfest is a fairly informal event and aims to feature the best in RPG's, Board Games, CCG's, War Games, Comics, Books, Film & Video gaming.
There is a very impressive line-up including the authors Gav Thorpe, Dan Abnett, Paul McKenzie, Conrad Williams and Robyn Young. The Black Library will be showing off everything novel related in the world of Warhammer 40k, you can meet the authors and take part in 2 panels, the first is a chance to learn all about the Black Library, find out about the latest upcoming releases and the writing of Warhammer and Warhammer 40k.
The second panel is all about The Horus Heresy, when Space Marine turned against Space Marine and the whole imperium was thrown into Chaos.
There will be quite a few Game Companies there including of course Games Workshop along with "Forge World" "Wargames Inc" and many others.
You will be able to play many demo games, all free of charge from classics board games like Talisman and Space Hulk, Role-playing such as Call of Cthulhu and the 4th edition D&D and everything Warhammer and Warhammer 40K related. There will even be a demonstration of the new Blood Bowl Video Game.
Gamesfest 2009 is on the 24th October and is a must for any serious gaming fan.