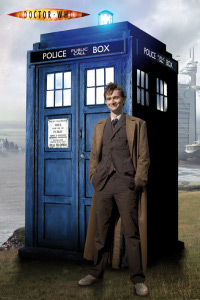 Doctor Who has scooped an special effects award (FX award) from the 7th annual VES (Visual Effects Society) Awards for "Outstanding Matte Paintings in a Broadcast Program or Commercial" in the episode "Silence in the Library".
The VES announced the winners in a black tie event at the Hyatt Regency Century Plaza Hotel in Los Angeles, USA. The Annual Event recognises outstanding visual effects over a dozen categories of film, animation, television, commercials and video games.
The VES Exectutive Director, Eric Roth was quoted as saying:
"This year's recipients exemplify true excellence in the field of visual and special effects,"
"On behalf of the VES Board of Directors, I congratulate all of this year's nominees on their incredible work."
Other recipients include:
Outstanding Visual Effects in a Visual Effects Driven Motion Picture
The Curious Case of Benjamin Button
Outstanding Visual Effects in a Broadcast Series
Battlestar Galactica season four - Space Battle
Best Single Visual Effect of the Year
The Curious Case of Benjamin Button - Benjamin's Secret
Outstanding Special Effects in a Motion Picture
The Dark Knight
Outstanding Created Environment in a Feature Motion Picture
The Dark Knight - IMAX Gotham City Scapes
Outstanding Models and Miniatures in a Feature Motion Picture
The Dark Knight - Garbage Truck Crash Models and Miniatures