Discworld one step closer to reality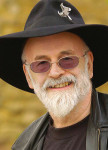 Terry Pratchett's Discworld has come one step closer to reality after road names at a new housing estate in somerset have been named after streets in Ankh-Morpork.
Peach Pie street and Treacle Mine road are included in the Kingswell Rise development in Wincanton. Sir Terry visited the town on Sunday to officially unveil the road names.
Wincanton has already been officially twinned with Ankh-Morpork of the Discworld novels.