Are we about to get NASA disclosure?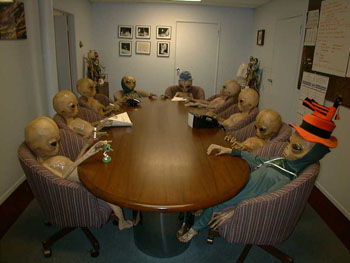 NASA has announced that it has scheduled a News Conference for Thursday 2nd December at 2pm EST (7pm GMT) to discuss an "astrobiology finding that will impact the search for evidence of extraterrestrial life".
The News Conference will be held at the NASA headquarters in Washington and will be broadcast live on NASA Television and streamed to the NASA website.
There is an Embargo on any specific details until the conference takes place and no further details are available with the exception of the participants which include the Director of the Astrobiology program Mary Voytek, astrobiologists Felisa Wolfe-Simon and Pamela Conrad. Other participants include Steven Benner a "distinguished fellow" and a member of the "Foundation for Applied Molecular Evolution" (FAME) along with James Elser who is the professor of Arizona state University.
James Elser is also a member of the NASA funded Astrobiology project "Follow the Elements" which has been setup to help guide the exploration for life beyond the Earth. The research is motivated by the simple observation that life as we know it uses a "non-random" selection of the chemical elements.
I can see why the NASA Astrobiology Director would be present, along with her researchers but to include Steven Benner and James Elser hints that they may have finally found evidence of some form of life beyond the earth. I can't see it being liitle green men in their spaceship but more likely some form of simple life on a planet, moon or even asteroid perhaps.