Amazon Kindle available outside the US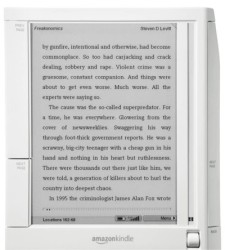 Amazon's e-reader, the Kindle is going to be available outside the USA for the very first time, including in the UK and it has emerged that the reasons for the long delay in the UK (the kindle has been available in the US since november 2007) has been in making an agreement with a mobile network provider.
What's even more surprising is that it has chosen AT&T to provide the wireless capabilities via the 3G network but that there is currently nothing setup, just days before launch. Amazon may have a tough time dealing with the PR fallout this is bound to cause.
The European version of the kindle is every bit the same as it's US counterpart except for the difference in wireless connectivity and will retail at £175 ($279). At Launch if you want to purchase a reader you will have to use Amazon.com and also to get any e-books, these will carry a $1.99 premium over US customers.
Up to date, the only e-reader available in the UK has been Sony's, although you could argue that low cost netbooks provide an alternative. Apple is also working on an e-reader but this isn't due to launch until 2010, at which point Amazon hope to have a firm foothold in the market.
The European Kindle will be available on amazon.com from the 19th October 2009.