2009 Aurealis award finalists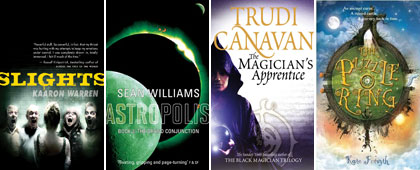 The finalists of the 2009 Aurealis awards have been announced. The Aurealis awards were created in 1995 to recognise the achievements of Australian science fiction, fantasy and horror writers.
Designed to compliment the Australian annual science fiction convention Ditmar awards and the Australian Children's book council awards, neither of which distinguish between the different categories of speculative fiction.
The Winners will be announced on Saturday 23rd January 2010 at the Judith Wright centre for contemporary Arts in Brisbane.
The Finalists
Best Science Fiction Novel
Wonders of a Godless World

by Andrew McGahan

The Grand Injunction

by Sean Williams
Best Science Fiction Short Story
Clockwork, Patchwork and Ravens

by Peter M. Ball, Apex Magazine May 2009

To Dream of Stars: An Astronomer's Lament

by Peter M. Ball, Apex Magazine October 2009

A Hundredth Name

by Christopher Green, Abyss & Apex Magazine #31

Defence of the Realm

by Greg Mellor, Cosmos #25

Soulmates

by Mike Resnick & Lezli Robyn,September 2009
Best Fantasy Novel
Horn

by Peter M. Ball

Magician's Apprentice

by Trudi Canavan

The Last Stormlord

by Glenda Larke

Witches Incorporated

by K.E. Mills

The Dark Griffin

by K.J. Taylor
Best Fantasy Short Story
Father's Kill

by Christopher Green, Beneath Ceaseless Skies #24

Once a Month, On a Sunday

by Ian McHugh, Andromeda Spaceways Inflight Magazine #40

Siren Beat

by Tansy Rayner Roberts, Roadkill/Siren Beat

Words

by Angela Slatter,The Lifted Brow #5

Something Better than Death

by Lucy Sussex,Aurealis #42
Best Horror Novel
Horn

by Peter M. Ball

Red Queen

by Honey Brown

The Dead Path

by Stephen M. Irwin

Night's Cold Kiss

by Tracey O'Hara

Slights

by Kaaron Warren
Best Horror Short Story
Jesse's Gift

by Felicity Dowker, Andromeda Spaceways Inflight Magazine #40

Having Faith

by Christopher Green, Nossa Morte, February 2009

Wives

by Paul Haines, X6

Slice of Life - A Spot of Liver

by Paul Haines, Slice of Life

The Message

by Andrew J. McKiernan, Midnight Echoes
Best Anthology
New Ceres Nights

by Alisa Krasnostein & Tehani Wessely (editors)

X6

by Keith Stevenson (editor)

Eclipse 2

by Jonathan Strahan (editor)

Eclipse 3

by Jonathan Strahan (editor)

The New Space Opera 2

by Jonathan Strahan & Gardner Dozois (editors)
Best Collection
A Book of Endings

by Deborah Biancotti

Oceanic

by Greg Egan

Slice of Life

by Paul Haines

Johnny Phillips Werewolf Detective

by Robbie Matthews
Best Graphic Novel
Scarygirl

by Nathan Jurevicius

The Silence

by Bruce Mutard

Secrets of Deltora

by Emily Rodda & Marc McBride

Hollow Fields

by Madeleine Rosca
Best Young Adult Novel
The Puzzle Ring

by Kate Forsyth

The Museum of Mary Child

by Cassandra Golds

A Small Free Kiss in the Dark

by Glenda Millard

Leviathan Trilogy: Book One

by Scott Westerfeld

Scarecrow

by Sean Williams
Best Young Adult short story
Dragon Bones

by Joanne Anderton,Andromeda Spaceways Inflight Magazine #39

Paper Dragons

by Sue Isle, Shiny #5

Once a Month, on a Sunday

by Ian McHugh, Andromeda Spaceways Inflight Magazine #40

Like Us

by Tansy Rayner Roberts, Shiny #5

Seventeen

by Cat Sparks, Masques
Best Children's novel
The Remarkable Secret of Aurelie Bonhoffen

by Deborah Abela

Cicada Summer

by Kate Constable

Tensy Farlow and the Home for Mislaid Children

by Jen Storer

A Ghost in My Suitcase

by Gabrielle Wang
Best Children's Picture book
Enigma

by Graeme Base

Tashi and the Golem

by Anna Fienberg (author), Kim Gamble (illustrator)

Victor's Challenge

by Pamela Freeman (author), Kim Gamble (illustrator)

Pilot and Huxley

by Dan McGuiness

The Hero of Little Street

by Gregory Rogers