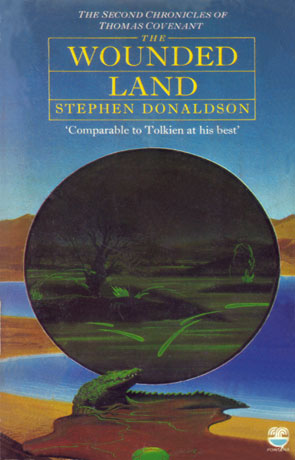 Book details
The Wounded Land

Publisher:

ISBN:

9780345326003

Published:

October 1980

Pages:

512

Format reviewed:

Paperback

Review date:

02/01/2013

Language:

English

Age Range:

N/A
Books in the series
About the author
For ten years Thomas Covenant has done his best to move on with his life and get back on top of his illness. While a decade may have passed in Covenant's world, in the Land it's been over three thousand years since he freed the people and defeated the evil Lord Foul.
In this time Foul has not been idle, recovered from his defeat he has ravaged the Land, enslaved it's population and corrupted it's leaders. Field and forest alike have been laid to waste while the healing earth-power has become impotent, even Covenant's journey having passed into little more than faded legend.
Covenant find's himself summoned once again, this time accompanied by the woman Linden Avery and armed with the wild white gold magic he must once again fight Foul's evil forces along with his own despair.
The Land is a very different place than it was when we last visited in the power that preserves, after three and a half thousand years it's pretty much unrecognisable, transformed by Foul and almost ruined beyond repair. Given the state of the place you might think that "The Wounded Land" would be an even darker read however it isn't really. Covenant has a sense of determination that even borders on optimism (or at least a sense of acceptance) and helped by Avery he is much more focused than he has ever been previously. Again Donaldson delivers something that's totally different, defying the happy ending of the previous book and showing us what it would be like if the bad guy won.
The narration is just as good as the previous novels, the same voice projects clearly from the pages and the language is as powerful as ever, although there are some colourful uses that on the odd occasion don't quite work. These are however so few and far between as to be little noticed and don't affect the enjoyment of the book in the slightest while his occasional use of uncommon words in the right context should be applauded.
Swinging around to the north-west, he released the flood-fire of his given strength and erupted, running towards Revelstone like a coruscation in the air.
I agree with the noted author and journalist Will Self here, I believe literature is the perfect place to encounter new words, how else does one expect to improve their vocabulary and I decry those who complain about an unfamiliar lexeme.
Reading reviews on Amazon, this second series seems to be a lot more contentious than the first - partly due to the occasional grammatical slip-up and demiurgic use of language. Even so I still find it difficult to figure out why people who loved the first series didn't like this second. It's got the same style and feels very much like a natural continuation of the story. Of course most of the characters from the first aren't there (after all three and a half thousand years have passed) but even so it's still very recognisable and I for one love how the author has changed the land, a warped, twisted place that provides a very effective draw. It should be noted that this sense of despair over how the world has changed does only make sense if you've read the previous trilogy and I really would recommend doing so.
For me there was scarcely a wasted moment in the novel and I became completely hooked from beginning to end as Covenant stumbles from one entanglement to the next. In many ways "the Land" that makes up this alternative universe is a reflection of Covenants own state of mind and the main message is again very much about human weakness and hidden strength in times of adversity. This book feels like a more personal journey for Covenant and Avery, Covenant to try and learn to control this wild magic and Avery coming to terms with what she's been running away from most of her life (a theme I have no doubt will continue across the series). The Wounded Land ends differently too, it's clear that this is just the first part of the overall story and feels much less a stand alone novel.
Anyone interested in fantasy fiction who is looking for something a bit different should check out this book, it stands the test of time remarkably well and fear not those naysayers casting doubt over this series, Donaldson triumphs again!
Written on 2nd January 2013 by Ant .
You may also like