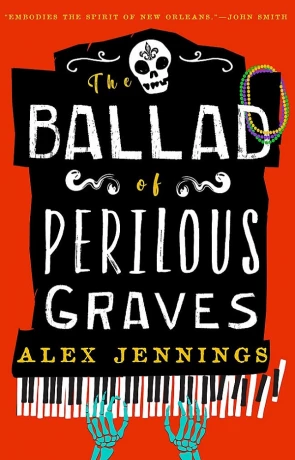 Book details
The Ballad of Perilous Graves

ISBN:

9780759557192

Published:

June 2022

Pages:

453

Format reviewed:

Review date:

28/06/2022

Language:

English
The genre of Urban Fantasy is pathed with perils, which means that it should be perfect for Alex Jennings' The Ballad of Perilous Graves. How do you make your modern fantasy stand out from the others without making it impenetrable for the reader? A unique location or voice works well. An author who brings their own sense of self to proceedings. Jennings has written a slice of urban fantasy unlike anything I have read, but is that a good thing?
Nola is an alternative New Orleans. Both are steeped in magic and music, but in the case of Nola, these are more on the surface as songs have a life of their own and float around the city. The dead and undead reside together with a sense of peace, so when several songs go missing Perilous Graves is tasked with finding them. Graves is young and a failed magician, so how are they going to uncover the truth. Perhaps with the help of his sister and some of the locals.
Graves is an ambitious book that has a lot of ideas. This is great for a reader as you feel like you are discovering something different and new, but it also makes the book something that you need to concentrate on. There are several elements that act as barriers to a reader. The setting is rightly obscure and magical. It is New Orleans, but not. It is as easy to think of Nora as being on an alien planet with New Orleans influences, there are enough supernatural aspects to separate the two.
The other areas I struggled with are not as valid. I found the structure hard to follow. There is the character of Graves, but also another storyline following Casey. The timeline leaps back and forth and I was not always sure what was happening when. As a reader I was about able to get my head around the concept of an alternative New Orleans, only to be spun further via the structure.
A final element that further confused matters is the use of regional turns of phrase. This is great in providing a sense of character and place, but it slows the pace of the reader as you must concentrate what is being said. On its own, not the biggest issue, but combined with the strange new world you find yourself in and a non-linear storyline, it can be tough.
There is no doubt that there is a colourful and intelligent book contained within the pages of Graves, it just takes someone with a more organised mind than mine to decipher it. Science fiction and fantasy throw these obtuse books my way several times a year and they are not for me, but for lovers of complex worlds, they can be great.
You may also like