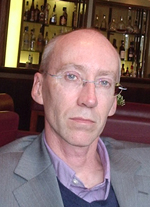 Steven Erikson is the pen name of Steve Rune Lundin, a Canadian author of fantasy fiction, most noted for his "Malazan Book of the Fallen" series which has been critically acclaimed and is considered by some to be the most significant series since Thomas Covenant.

Hi style of writing is quite unconventional, includes complex plots, masses of characters and can mean killing a major character off if neccesary. He has been quoted as saying he enjoys overturning the conventions of fantasy and creating characters that violate the stereotypes associated with their roles.

Erikson lives in Winnipeg, Canada where he writes and paints.
Bibliography
Malazan Book of the Fallen

Gardens of the Moon (1999)
Deadhouse Gates (2000)
Memories of Ice (2001)
House of Chains (2002)
Midnight Tides (2004)
The Bonehunters (2006)
Reaper's Gale (2007)
Toll the Hounds (2008)
Dust of Dreams (2009)
The Crippled God (2011)

As Steven Lundin

This River Awakens (1998)
Fishin' with Grandma Matchie (2004)
When She's Gone (2004)