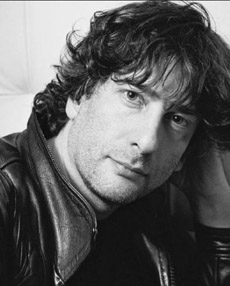 Neil Gaiman is a renowned and award winning English author of both science fiction and fantasy novels and short stories, for the adult and young adult markets. He is also well known for his graphic novel series The Sandman.

He is a prolific writer and has been listed in the Dictionary of Literary Biography as one of top ten living post-modern writers. Neil also writes film scripts, including Beowolf, Mirrormask, Stardust, Coraline and the TV series Neverwhere (based on his book of the same name).

He has won a number of awards including: 3 Hugos, 2 Nebulas, 1 World Fantasy Award, 4 Bram Stoker Awards, 6 Locus Awards, 2 British SF Awards, 1 British Fantasy Award, 3 Geffens, 1 International Horror Guild Award and 1 Mythopoeic.

His novels include American Gods, Neverwhere, Stardust, The Graveyard Book and Coraline.
Bibliography
Adult Novels

American Gods
Neverwhere
Good Omens
Stardust
Anansi Boys
Mirror Mask
Smoke and Mirrors
Fragile Things
Interworld

Childrens Books

Coraline
M is for Magic
Odd and the Frost Giants