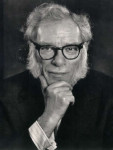 Isaac Asimov was hugely successful science fiction American Author and also a professor of Biochemistry. Isaac was originally born in Petrovichi, Smolensk Oblast, Russia to a jewish family of millers.
His family emmigrated to the USA when Isaac was three years old. Isaac grew up in the Brooklyn, New York and taught himslf to read at the age of five years old. While growing up in New York, his parents owned a series of Sweet shops where evryone in the family was expected to work to help out.
It was in these stores that Isaac first came across the world of Science Fiction, in the form of Sci Fi pulp magazines that were sold in the shops. By the Time Isaac was eleven years old he had begun to write his own stories. By the age of nineteen years old, Isaac had begun to sell thse stories to the Science Fiction Magazines. It was through this that Isaac met the editor of Astounding Science Fiction, John W Campbell, who became a good friend.
Isaac graduated from the Columbia University in 1939 and spent the next 3 years working as a civilian at Philidelphia`s Navy Yard Naval Air Experimental Station as part of the World War 2 war effort. After World War 2 ended, he was drafted into the US Army, rose to the rank of corporal, and narrowly avoided participating in the Bikini Atoll Atomic Bomb tests in 1946, all in under 9 months of service, after which he recieved an Honourable discharge. He returned to the Columbia University and gained a Ph D in biochemistry in 1948.
Since that time Isaac joined the Boston University Faculty where he remained conected to even after he pursued a full time writing career in 1958. He was honoured with a full professor of Biochemistry by the university in 1979.
Isaac is widely regarded as a master of the Science Fiction genre and is considered on of the "big three" Science Fiction writers along with Artur C Clarke and Robert A Heinlein. His most famous work is the Foundation series of books along with the Galactic Empire series and the Robot series, all of which tie into the same universe to create a future history.
Isaac was a great writer of short stories and his short story "nightfall" was voted the best short sience fiction story of all time by the Science Fiction Writers of America in 1968. Nightfall was later expanded into a full novel with the aid of Robert Silverberg.
He was a reluctant Vice president of Mensa International for quite some time and was also the president of the American Humanist Association. Isaac was also a great writer and speaker of science and technology and was very well respected in this field.
Isaac Asimov passed away on the 6th April 1992, however it was ten years later before his widow Janet and his daughter Robin made public knowledge that his death had been as a result of contracting the AIDs virus from a blood transfusion some years earlier.
Isaac Asimov continues to be regarded as one of the greatest Science Fiction writers and his stories are still enjoyed today around the world.
There is approximatly 515 written works by Isaac Asimov, which is far too many to list here, I have listed the most popular by order of series. For a complete list you can visit this site:
Wikipedia Bibliography of Isaac Asimov"
Bibliography
Selected Works

Fantastic Voyage series

Fantastic Voyage (1966)
Fantastic Voyage II: Destination Brain (1987)

Greater Foundation Series

The Robot series:

Galactic Empire series:

Pebble in the Sky (1950)
The Stars, Like Dust (1951)
The Currents of Space (1952)

Original Foundation trilogy:

Foundation (1951)
Foundation and Empire (1952)
Second Foundation (1953)

Extended Foundation series:

Foundation's Edge (1982)
Foundation and Earth (1986)
Prelude to Foundation (1988)
Forward the Foundation (1993)

Novels not part of a series

The End of Eternity (1955)
The Gods Themselves (1972)
Nemesis (1989)
Nightfall (1990) - with Robert Silverberg
The Ugly Little Boy (1992) - with Robert Silverberg
The Positronic Man (1993) - with Robert Silverberg

Short story collections

I, Robot (1950)
The Martian Way and Other Stories (1955)
Earth Is Room Enough (1957)
Nine Tomorrows (1959)
The Rest of the Robots (1964)
Through a Glass, Clearly (1967)
Nightfall and Other Stories (1969)
The Early Asimov (1972)
The Best of Isaac Asimov (1973)
Buy Jupiter and Other Stories (1975)
The Complete Robot (1982)
The Winds of Change and Other Stories (1983)
The Alternate Asimovs (1986)
The Best Science Fiction of Isaac Asimov (1986)
Robot Dreams (1986)
Azazel (1988)
Robot Visions (1990)
Gold (1995)
Magic (1995)