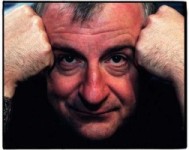 Douglas Noel Adams (DNA) was a very popular British Science Fiction author, radio dramatist and also a musician. He is most famous for his Hitch Hikers Guide to the Galaxy Series which includes Radio, Television, Film, comic book series and a book Trilogy in five parts.
Douglas was born in Cambridge in 1952, in 1957 his parents divorced and he along with his mother and sister Susan moved to Brentwood, Essex to live with his grandparents. Douglas' grandmother had kept her house as an official RSPCA refuge for injured animals which was unfortunate for Douglas who suffered from hayfever and Asthma.
Douglas attended the Brentwood primary and secondary schools, Primrose Hill where he was in the top groups. He remained in the sixth form and specialised in Art and actually stayed an extra seventh term to prepare for Oxbridge entrance exams.
While at prep school Douglas was awarded 10 out of 10 for creative writing by his English Teacher, Frank Halford, the only 10 out of 10 he awarded in his career. This was remembered by douglas his whole life.
Douglas had some of his earliest writing published at the school including a report in "The Brentwoodian" a spoof reviews magazine. He also managed to get a letter and story published in "The Eagle" a very well known british comic book. By the time Douglas was 12 years old, he was six feet tall and didnt stop growijng until he reached six foot five.
On the strength of a bravura essay on religious poetry that discussed the Beatles along with William Blake, he was awarded a place at St John's College, Cambridge to read English, entering in 1971. After being turned down attempting to join Footlights Dramatic club, he began to write and perform in revues with Martin Smith and Will Adams forming a group called "Adams Smith Adams", he had previously met Griff Rhys Jones and worked along side with on occasion. Douglas graduated from Cambridge with a B.A. in English Literature in 1974.
Douglas continued to write revues and some of these appeared on BBC2, a version of his Footlight Revue was performed live in the WEst End and led to douglas being discovered by Graham Chapman. Douglas worked with Graham briefly and earned a credit in the 45th episode of Monty Pythons Flying Circus for a sketch called "Patient Abuse". Douglas also contributed to artwork for the Album for Monty Pythons Holy Grail.
Douglas also appeared in two episodes of the flying circus, in Episode 42 and episode 44, both were broadcast in 1974.
Being a writer in this time was not usually a very well paid job and so Douglas worked in a variety of jobs including that of a bodyguard in the 1970`s to an Arab family which had made its fortune in oil.
The Hitchhiker's Guide to the Galaxy
The Hitchhiker's Guide to the Galaxy was originally a concept for comedy radio series pitched by Adams and radio producer Simon Brett to BBC Radio 4 in 1977. Douglas wrote a pilot as well as other stories that could be used in the series.
Douglas told people that he came up with the idea title The Hitchhiker's Guide to the Galaxy while he lay drunk in a field in Innsbruck, Austria, gazing at the stars. Despite the original outline, Adams was said to make up the stories as he wrote them. The series was originally bradcast weekly in the UK between march and April 1978, with a christmas episode and second series following from the first.
Douglas was never a prolific writer and usually had to be forced by others to do any writing. This included being locked in a hotel suite with his editor for three weeks to ensure that So Long, and Thanks For All the Fish was completed. He was quoted as saying, "I love deadlines. I love the whooshing noise they make as they go by."
Despite the difficulty with deadlines, Adams eventually authored five novels in the series, published in 1979, 1980, 1982, 1984 and 1992.
The books formed the basis for other adaptations, such as graphic novel adaptations for each of the first three books, an interactive PC game, and a photo-illustrated edition, published in 1994. This latter edition featured a 42 Puzzle designed by Adams, which was later incorporated into paperback covers of the first four "Hitchhiker's" novels (the paperback for the fifth re-used the artwork from the hardcover edition).
In 1980, Adams also began attempts to turn the first Hitchhiker's novel into a movie, making several trips to Los Angeles, California, and working with a number of Hollywood studios and potential producers. The next year, 1981, the radio series became the basis for a BBC television mini-series "The Hitch Hikers Guide to the Galaxy" broadcast in six parts. When he died in 2001 in California, he had been trying again to get the movie project started with Disney, which had bought the rights in 1998. The screenplay finally got a posthumous re-write by Karey Kirkpatrick, was green-lit in September 2003, and the resulting movie was released in 2005.
Radio producer Dirk Maggs had consulted with Adams, first in 1993, and later in 1997 and 2000 about creating a third radio series, based on the third novel in the Hitchhiker's series. They also vaguely discussed the possibilities of radio adaptations of the final two novels in the five-book "trilogy." As with the movie, this project was only realised after Adams' death. The third series, The Tertiary Phase, was broadcast on BBC Radio 4 in September 2004 and was subsequently released on audio CD. With the aid of a recording of his reading of Life, the Universe and Everything and editing, Douglas Adams himself can be heard playing the part of Agrajag posthumously. So Long, and Thanks For All the Fish and Mostly Harmless made up the fourth and fifth radio series, respectively (on radio they were titled The Quandary Phase and The Quintessential Phase) and these were broadcast in May and June of 2005, and also subsequently released on Audio CD. The last episode in the last series (with a new, "more upbeat" ending) concluded with, "The very final episode of The Hitchhiker's Guide to the Galaxy by Douglas Adams is affectionately dedicated to its author."
Recently, Smoov Filmz, a film production company adapted the anecdote that Arthur Dent relates about biscuits in So Long, and Thanks for All the Fish into a short film called "Cookies." Adams also discussed the real-life episode that inspired the anecdote in a 2001 speech, reprinted in his posthumous collection The Salmon of Doubt.
Adams died of a heart attack at the age of 49 on 11 May 2001, during the rest period of his regular workout at a private gym in Montecito, California.
In May 2002, The Salmon of Doubt was published, containing many short stories, essays, and letters, as well as eulogies from Richard Dawkins, Stephen Fry (in the UK edition), Christopher Cerf (in the U.S. edition), and Terry Jones (in the U.S. paperback edition). It also includes eleven chapters of his long-awaited but unfinished novel, The Salmon of Doubt, which was likely to become a new Dirk Gently novel.
Douglas Adams will be long remembered for his incredible, humorous Hitch Hikers Guide to the Galaxy Series and remains an icon of British Science Fiction.