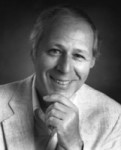 Benjamin William Bova was born in the american city of Philadelphia in the state of Pennsylvania. He graduated from the Temple university in 1954 with a Bachelors degree in Journalism and he got a job as a technical writer in 1956, remaining in the aerospace industry for 15 years. During that period he began writing Sience Fiction. His first book was The Star Conquerors (1959) while his first short story, "A Long Way Back", appeared a year later in 1960.
He has since studied at the Sate University of New York and recieved a Masters of Art Degree from there in 1987 and in 1996 he received a doctorate in education from California Coast University.
Ben has been actively involved in technology and the pursuit of science since the very dawn of the Space Age. He has made outstanding contributions to Science and to Science Fiction with over 115 books published to date. Ben has been a very successful futurist with many accurate predictions like the development of the Space Race of the 1960s, solar power satellites, the discovery of organic chemicals in interstellar space, virtual reality, human cloning, the Strategic Defense Initiative (Star Wars), the discovery of life on Mars, the advent of international peacekeeping forces, the discovery of ice on the Moon and electronic book publishing to name a few.
Ben has lectured at Harvard, directed Film courses in New York, worked with film makers including George Lucas, Gene Roddenberry and Woody Allen and is a very regular lecturer on subjects such as Immortality, Space Exploration and the Search for Extraterrestrial life.
Ben has also been an editor for a number of Magazines, is a past President of the Science Fiction Writers of America and has won many awards for his contributions both in the field of Science and Science Fiction.
Bibliography
Collections

Forward in Time (1973)
Maxwell's Demons (1979)
E (1984)
The Astral Mirror (1985)
Prometheans (1986)
Battle Station (1987)
Future Crime (1990)
Challenges (1994)
The Future Quartet - Earth in the Year 2042 (1995)
Twice Seven (1998)

Exiles

Exiled from Earth (1971)
Flight of Exiles (1972)
End of Exile (1975)

Grand Tour

Powersat (2005)
Empire Builders (1993)
Mars (1992)
Moonrise (1996)
Moonwar (1998)
Return to Mars (1999)
The Precipice (2001)
Jupiter (2001)
The Rock Rats (2002)
The Aftermath (2007)
Saturn (2002)
Titan (2006)
The Silent War (2004)
Mercury (2005)
Venus (2000)
Tales of the Grand Tour (2004)
Mars Life (2008)
Sam Gunn
Sam Gunn, Unlimited (1993)
Sam Gunn Forever (1998)
Sam Gunn Omnibus (2007)

Non-series novels

The Weathermakers (1967)
Out of the Sun (1968)
Escape! (1969)
THX 1138(1971)
As on a Darkling Plain (1972)
The Winds of Altair (1983)
Privateers (1985)
When the Sky Burned (1972)
Gremlins, Go Home! (1974)
The Starcrossed (1975)
City of Darkness (1976)
Millennium (1976)
The Multiple Man (1967)
Colony (1978)
Kinsman (1979)
Test of Fire (1982)
The Kinsman Saga (1987)
Peacekeepers (1988)
Cyberbooks (1989)
The Trikon Deception (1992)
Triumph (1993)
Death Dream (1994)
Brothers (1996)
The Green Trap (2006)

Orion

Orion (1984)
Vengeance of Orion (1988)
Orion in the Dying Time (1990)
Orion and the Conqueror (1994)
Orion Among the Stars (1995)

To Save the Sun

To Save the Sun (1992)
To Fear the Light (1994)

Voyagers

Voyagers (1981)
The Alien Within (1986)
Star Brothers (1990)

Watchmen

The Star Conquerors (1959)
Star Watchman (1964)
The Dueling Machine (1963)