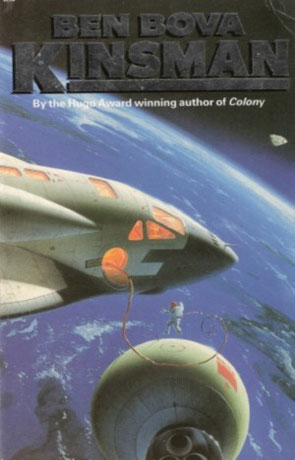 Book details
Kinsman

Publisher:

ISBN:

Published:

Pages:

288

Format reviewed:

Paperback

Review date:

01/03/1999

Language:

English

Age Range:

N/A
About the author
This is the first Ben Bova that I've read in a long time. Chet Kinsman will do just about anything to get into space, and luckily for him he gets to go to space with the space marines. He's not so lucky when he gets grounded after a "small" accident. He's lucky again when NASA lets him go to the moon and unlucky, when he's forced to disobey orders and gets grounded again. All out of agencies, he has to find another way of getting into space, anything will do, even bringing the world to the brink of war.

Nice story that is well enough written and hasn't taken too much damage from the passage of time. The story is different from a lot of the "I want to go in to space" stories out there, as it is more about the personal cost of the obsession, which has a tendency to be overlooked.
Written on 1st March 1999 by TC .
You may also like