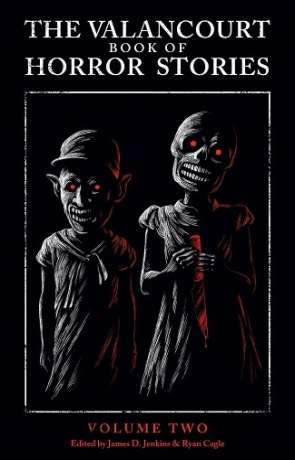 Book details
The Valancourt Book of Horror Stories: Volume 2

Publisher:

ISBN:

B01LWDLSG4

Published:

October 2016

Pages:

220

Format reviewed:

Paperback

Review date:

14/09/2017

Language:

English
Valancourt Books is an American, independent small imprint especially devoted, among other things, to unearth and reprint forgotten and rare gems of gothic fiction from the past, as well as samples of classy, long gone out of print horror fiction.
Thus, after the successful Valancourt Book of Horror Stories, a second volume is now available, collecting fourteen tales spanning almost two hundred years, penned both by masters of the genre and by mainstream authors who tried their hands at dark fiction some time during their literary career.
The whole volume is quite enjoyable and extremely entertaining, but some of the stories deserve a particular mention.
"Samhain" by Bernard Taylor is a quietly horrific story featuring a woman who tries to get rid of her husband by means of the black arts ( with a nice twist in the tail), while "The Bell" by Beverley Nichols is a brief, atmospheric and creepy tale where something is summoned from beyond the grave.
In John Metcalfe's " No Sin" we witness a dark tragedy with a distinct supernatural touch, and in Nevil Shute's " Tudor Windows" the classical subject of the haunted house is effectively revisited.
"The Dice" by Thomas De Quincey is an excellent piece of supernatural horror describing how a pact with the Evil One affects the life of a young gambler, and "Camera Obscura" by Basil Copper is a masterful supernatural tale with a strong moral undercurrent, told in an enticing narrative style.
Among the highlights of the anthology I must include "November the Thirteenth" by Russell Thorndike, a solid, traditional kind of ghost story where the hate between two men brings about a terrible vengeance from the afterlife, and "Halley's Passing" by Michael McDowell, a superb piece of dark fiction featuring an experienced, cold blooded killer mixing violence and method.
My personal favourite is the outstanding "Herself" by the prolific Mary Elizabeth Braddon, a deliciously unsettling ghost story of decay and death set in a magnificent villa on the coast of Liguria ( Italy).
Highly recommended.
Written on 14th September 2017 by Mario Guslandi.
You may also like