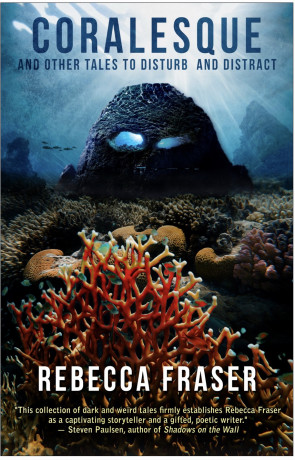 Book details
CORALESQUE and Other Tales to Disturb and Distract

Publisher:

ISBN:

B08T9X3KY9

Published:

April 2021

Pages:

142

Format reviewed:

E-Book

Review date:

30/04/2021

Language:

English
Australian authors of dark fiction often remain scarcely known outside their country and that's a shame because the quality of their work is usually very good.
The present volume is the debut collection by Rebecca Fraser, a mix of short stories, flash fiction and dark poems. I'm not qualified to comment on poetry, so I'll focus on the stories mentioning the ones which impressed me the most.
The title story " Coralesque"is an excellent piece set in the world of surfers. An ordinary surfing accident during a sea storm brings about a horrific sequel of events.
" The Pedlar" is the clever, disquieting portrait of a man moving from village to village with his cart to sell objects bound to mysteriously get back to him,while "Uncle Alec's Gargoyle" is a rather predictable but fully enjoyable dark tale about a malevolent gargoyle.
In the enticing " The Little One", a splendid dark fable, a profligate prince and his mother get their deserved punishment by inhuman creatures.
The cynical " The Skylar Solution" describes how a Mayor's plan for getting a city free from vagrants and hobos ends up in an unexpected,tragic way.
Among the " flash stories" featured in the volume the more accomplished, in my opinion, are " 48 Jefferson Lane", where a man is lured by his attractive neighbor too fond of men and cats, and " William's Mummy", portraying a distressed woman and his elusive baby son.
All in all a fine collection by a talented writer.
Written on 30th April 2021 by Mario Guslandi.
You may also like