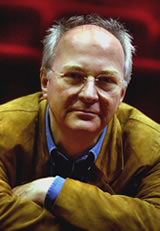 Philip Pullman is an English fantasy author, best known for his critically aclaimed series of novels "His Dark Materials".

He has recieved a number of awards and has been writting both adult and childrens literature since 1972, with his first novel "The Haunted Storm", while he worked teaching children and writing school plays.

He is a supporter of the British Humanist Society and is a confirmed Athiest, which has led to some criticism that his dark materials novels pursues an anti-Christian agenda. Pullman has defended this allegation by stating that his writing simply includes values that he hold as important, something most authors do conciously or sub-conciously. He has also said he has never intended to offend anyone with his writing.

The first novel in His Dark Materials series "Northern Lights has been turned into a successful motion picture called Golden Compass (the books name in the US) while his "Sally Lockhart" series has been turned into a TV mini series starring Billie Piper.
Bibliography
His Dark Materials

1995 Northern Lights
1997 The Subtle Knife
2000 The Amber Spyglass
Lyra's Oxford
Once Upon a Time in the North

Sally Lockhart

The Ruby in the Smoke
The Shadow in the North
The Tiger in the Well
The Tin Princess

The New-Cut Gang

Thunderbolt's Waxwork
The Gasfitter's Ball

Single Volumes

The Haunted Storm
Galatea
Count Karlstein
How to be Cool
Spring-Heeled Jack
The Broken Bridge
The White Mercedes
The Wonderful Story of Aladdin and the Enchanted Lamp
Clockwork, or, All Wound Up
The Firework-Maker's Daughter
Mossycoat
The Butterfly Tattoo
I was a Rat! or The Scarlet Slippers
Puss in Boots: The Adventures of That Most Enterprising Feline
The Scarecrow and his Servant
The Good Man Jesus and the Scoundrel Christ