Kevin J Anderson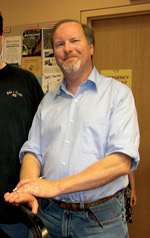 Kevin J Anderson is a prolific American science fiction author who has written novels for the Star Wars series, Dune, Predator, X-files (to name a few) and has also written a number of original novels. The most noted of his original works is the Saga of Seven Suns series.

Kevin J Anderson has become a worldwide hit with over 20 million books in print and 47 of his novels have appeared in bestseller lists.
Bibliography
Star Wars books
Darksaber (1996)
Jedi Search (1994)
Dark Apprentice (1994)
Champions of the Force (1994)
Heirs of the Force (1995)
Shadow Academy (1995)
The Lost Ones (1995)
Lightsabers (1996)
Darkest Knight (1996)
Jedi Under Siege (1996)
Shards of Alderaan (1997)
Diversity Alliance (1997)
Delusions of Grandeur (1997)
Jedi Bounty (1997)
The Emperor's Plague (1997)
Return to Ord Mantell (1998)
Trouble on Cloud City (1998)
Crisis at Crystal Reef (1998)
Tales from the Mos Eisley Cantina (1995)
Tales from Jabba's Palace (1996)
Tales of the Bounty Hunters (1996)
The Illustrated Star Wars Universe (1995)
The Essential Chronology (2000)
The New Essential Chronology
Dune books (with Brian Herbert)
House Atreides (1999)
House Harkonnen (2000)
House Corrino (2001)
The Butlerian Jihad (2002)
The Machine Crusade (2003)
The Battle of Corrin (2004)
The Road to Dune (2005)
Hunters of Dune (2006)
Sandworms of Dune (2007)
Paul of Dune (2008)
Dune Short Stories
Dune: A Whisper of Caladan Seas (short story)
Dune: Hunting Harkonnens
Dune: Whipping Mek
Dune: The Faces of a Martyr
Dune: Sea Child
Hellhole Series
Hellhole (2010)
Hellhole Inferno
Single Volumes with Doug Beason
Lifeline (1990)
The Trinity Paradox (1991)
Nanospace (1992)
Ill Wind (1995)
Virtual Destruction (1996)
Fallout (1997)
Lethal Exposure (1998)
Ignition (1997)
Assemblers Of Infinity (1993)
Other Single Volumes
Ai! Pedrito! (1998)
Slan Hunter (2007)
Dean Koontz's Frankenstein, Book One: Prodigal Son (2005)
Fantastic Voyage: Microcosm (2001)
Captain Nemo: The Fantastic History of a Dark Genius (2002)
The League of Extraordinary Gentlemen
Sky Captain and the World of Tomorrow
Resurrection, Inc. (1988)
Climbing Olympus (1994)
Blindfold (1995)
Hopscotch (2002)
The Martian War (2005)
The Last Days of Krypton (2007)
Enemies & Allies (2009)
X-Files
Ground Zero (1995)
Ruins (1996)
Antibodies (1997)
StarCraft
StarCraft: Shadow of the Xel'Naga (2001)
Gamearth Trilogy
Gamearth (March 1989)
Game Play (October 1989)
Game's End (September 1990)
Saga of Seven Suns series
Prequel: Veiled Alliances (Graphic Novel -2004)
A Forest of Stars (2003)
Horizon Storms (2004)
Scattered Suns (2005)
Of Fire and Night (2006)
Metal Swarm (2007)
The Ashes of Worlds (2008)
Terra Incognita Series
The Edge of the World (2009)
The Map of all Things (2010)
The Key to Creation (2011)
We make up horrors to help us cope with the real ones.
Book of the month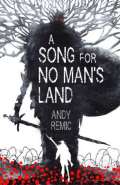 A Song for No Man's Land by Andy Remic
A Message from SFBook
SFBook is entirely funded by Ant including hosting, development and any other costs.
If you enjoy the site please consider a small donation towards the cost of the upkeep and development of SFBook.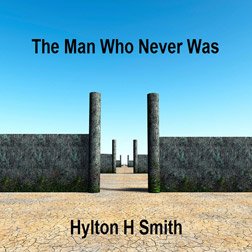 Review Archives