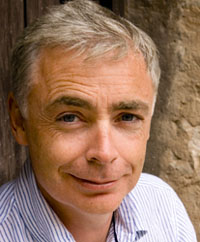 Eoin Colfer is an Irish author of fantasy and science fiction, most noted for his children's series, "Artemis Fowl".

He has also written a follow up to Douglas Adams Hitchhikers Guide To the Galaxy series, called "And Another Thing" which has been very well received.

His first novel was called "benny and Omar" and was based on his time spent working in Saudi Arabia, Tunisia and Italy. Released in 1998, it has since been translated into many different languages around the world.

The first novel in the Artemis Fowl series was published in 2001 and the series has so far sold over 20 million copies.
Bibliography
Benny Shaw

Benny and Omar (1998)
Benny and Babe (1999)

Ed

Ed's Funny Feet (2000)
Ed's Bed (2001)

Artemis Fowl

Artemis Fowl (2001)
Artemis Fowl: The Arctic Incident (2002)
Artemis Fowl: The Eternity Code (2003)
Artemis Fowl: The Opal Deception (2005)
Artemis Fowl: The Lost Colony (2006)
Artemis Fowl: The Time Paradox (2008)
Artemis Fowl: The Atlantis Complex (2010)

Artemis Companion novels

Artemis Fowl: The Seventh Dwarf (short story; 2004)
The Artemis Fowl Files (companion book; 2004)
Artemis Fowl: The Graphic Novel (2007)
Artemis Fowl: The Arctic Incident The Graphic Novel (2009)

The Supernaturalist

The Supernaturalist (2004)
The Supernaturalist 2 (not yet published) (2010)

Legend of...

Eoin Colfer's Legend of Spud Murphy (2004)
Eoin Colfer's Legend of Captain Crow's Teeth (2006)
Eoin Colfer's Legend of the Worst Boy in the World (2007)

The Hitchhiker's Guide to the Galaxy

Standalone novels

Going Potty (1999)
The Wish List (2000)
Half Moon Investigations (2006)
Airman (2008)
Click: One novel ten authors, chapter 3 (2007)