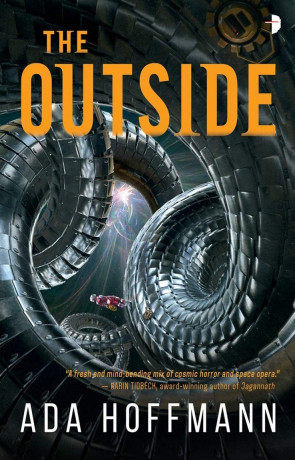 Book details
The Outside

Publisher:

ISBN:

9780857668134

Published:

June 2019

Pages:

401

Format reviewed:

Paperback

Review date:

24/07/2019

Language:

English
This debut novel from Ada Hoffman comes on the back of a strong catalogue of short story success in Uncanny, Asimov's and other well-known SF magazines.
Onboard the space station, Pride of Jai, autistic scientist Yasira Shien leads a huge science and engineering project in power generation through a radical new energy system. She has misgivings as her life's work is activated and these misgivings prove well founded as her work causes the fabric of reality to warp and change, destroying the station and killing more than a hundred of her co-workers and friends.
Shien is forced to work for the Angels, the servants of the Gods as they try to piece together what happened and follow the trail of heretical knowledge to its source, Shien's old mentor, Doctor Evianna Talirr.
The Outside is an interesting Science Fiction story in that it is fits in the subgenre of Super Future – the type of science fiction that deals with characters that are more than human and often dominate the narrative with their extraordinary abilities, gifted to them through a vast extension of current science into pseudoscience that be hard for the reader to follow. Other examples of Super Future novels are the Polity series by Neal Asher, the Jean Le Flambeur novels from Hanu Rajaniemi and the Age of Scorpio trilogy from Gavin Smith.
The Outside has a selection of characters that fit into the Nietzschean model of the superman. These are the Angels, messengers and servants of the artificial deities of Hoffman's future interstellar society. However, unlike Asher, Rajaniemi and Smith, Hoffman manages to temper the qualities of these creatures in her work by giving us a very real human being to identify with – her central character, Yasira Chien. This serves to make the novel accessible to the reader and dilute the issues that most super future novels struggle with – relating themselves to the reader's own experience.
Hoffman is also keen to describe and stress Chien's flaws. Her autism is carefully shown to the reader in the opening chapters and whilst it fades somewhat in its depiction later on, it is clear that Hoffman is not writing a disability trope and falling into the trap of making this an overcoming story. Chien is who she is because of her characteristics – all of her characteristics and this makes her all the more appealing to the reader.
Events of the story gradually come together for the ending. It is here that the super future elements assert their dominance and resolve the plot through a series of reality manipulations that are at least partially rationalised. Hoffman makes use of a variety of psychological rationalisations, which work well to connect Chien to the powers that she invokes, but there is an uneasy transformation here, with Chien becoming something of a Nietzschean archetype. As this novel is going to be the first of a trilogy it will be interesting to see what Hoffman does next with the character and how she strives to maintain the charm and engaging quality of this story, which is probably its strongest element.
You may also like