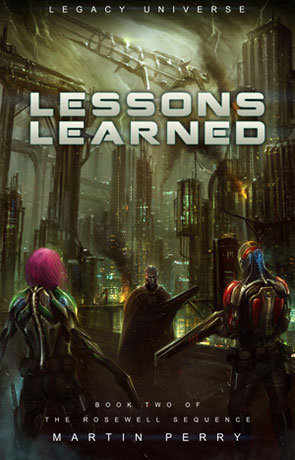 Book details
Lessons Learned

Series:

Legacy Universe

Publisher:

ISBN:

Published:

Pages:

400

Format reviewed:

E Book

Review date:

10/08/2012

Language:

English

Age Range:

N/A
Books in the series
About the author
Lessons Learned follows on from the life-changing events of Gentle Reminders serialised right here on SFBook. Finding themselves without a Captain, Maur and the Jump Cannon crew try to adapt to their new roles and face some of their deadliest missions yet.
The Free Man group is still lurking in the shadows but with the arrival of teleportation technology they may very well be brought into the light.
I figured out one of the things that makes this series so special while reading Lessons Learned and that is the sense of teamwork, the sense of everyone working as a cohesive group but more than that the interplay between these characters. Maur and Kerra still take center stage for much of the story but we do also get a nice alternative view by way of the incarcerated captain which breaks up the action pretty nicely and actually working well with the overall plot.
The inclusion of teleportation technology could quite easily unbalanced the story however this is handled with aplomb by the author, not to mention with the inclusion of more than one bomb too. The plot itself is pretty enticing, on a grander scale than Gentle Reminders with a pretty hectic pace and rich dialogue. This proves very effective when set against this vivid, alien infested and complex universe that the author has created here, I haven't felt quite the same sense of wonder of a highly populated universe outside of Star Wars.
The action is choreographed in style and there has clearly been a great deal of thought put into these scenes, not only do they work surprisingly well but they also fit in perfectly with the surrounding story. The interplay between these action scenes and the banter of the crew is the highlight of the novel.
Characterisation is another of the things that make this series so special, and each of the main characters has sufficient screen time to really develop and allow the reader to get to know them. If possible the actual ending of the novel manages to top the predecessor too, pretty spectacular in a very different way and one that makes you thirst for more in the Legacy Universe.
Overall Lessons Learned is an accomplished novel, rich in detail with a fast and lively dialogue, recommended.
Written on 10th August 2012 by Ant .
You may also like