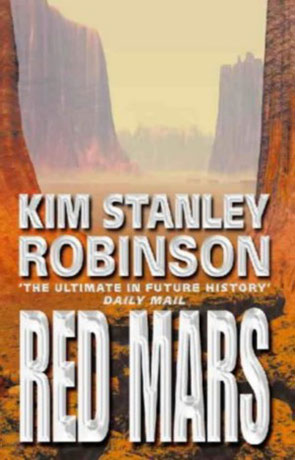 Book details
Red Mars

Series:

Mars Trilogy

Publisher:

ISBN:

Published:

Pages:

400

Format reviewed:

Paperback

Review date:

01/01/1999

Language:

English
Books in the series
Awards won
About the author
The front page of this book has a quote from Arthur C. Clarke saying "[Red Mars]...It should be required reading for the colonists of the next century" – not sure about making it required reading, maybe it can be used as a test. If you can read this book without falling asleep, you will probably be able to endure the boredom of being locked into a small can for one or two years on the way to Mars (I failed - fell asleep twice, something that I usually never do while reading).

It's a mystery to me how this book won the 1993 Nebula Award for Best Novel, it may be fairly accurate and close to how-it-could-be, but it's booooring! My version of the book is 570 pages and nothing happens on the first 500 pages! Maya drones on and on about the power struggle in the ship on the voyage to Mars. Nadia goes on and on about how she helps build all kinds of stuff on Mars (and bitch about how Maya drones on and on about the power struggle). John and Frank drone on and on about Maya and the power struggle while they endlessly drive around Mars describing one red landscape after another.

There are a few interesting ideas on colonisation of Mars but these drown in the endless boredom of the characters. It read like a history book written after the colonisation of mars, written by the most boring historian you can imagine. I was that close to giving up half way through it.

If you are really, really interested in the technical aspects of colonising mars, you may love this book - or maybe you won't - I'm interested, but I was so bored that I didn't care. For all I care they could have flow to Mars on the back of a whale, wearing plastic cups for breathers, if only the story and the characters had been interesting.

It picks up a bit on the last few pages and I may start on Green Mars if I can borrow it from somebody.
Written on 1st January 1999 by TC .
You may also like