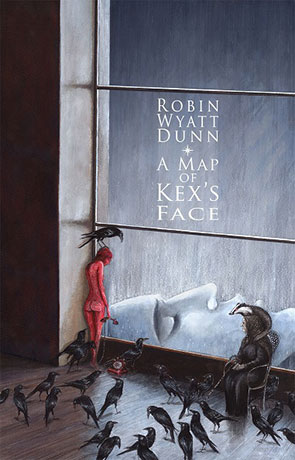 Book details
A Map of Kex's Face

Publisher:

ISBN:

978-1-940830-04-9

Published:

December 2014

Pages:

215

Format reviewed:

Hardback

Review date:

18/12/2014

Language:

English

Age Range:

15-
Synopsis:
Kex is the administrator of the Eidon Academy, a college with an interdimensional porthole on campus, and the intellectual center of a recently seceded Southern California. Roberto and his wife Sasha are busy acting out a bad campus novel, with infidelities and academic intrigues, when the known universe undergoes some fundamental changes. Kex is more than a human being, it appears, but also an avatar around whom mandala-like emanations revolve, frequencies whose meaning Roberto must discern if he is to legitimize his new Department of Cartography . . .
Review:
I read Robin Wyatt Dunn's A Map of Kex's Face a few weeks ago. I wanted to give it time to resonate in my mind, but also I wanted to buy time to figure out how to properly review this highly metaphysical and creative piece of Science Fiction. After reflecting on some of PKD's work, I discovered that the best review for Dunn's ambitious story was to not go into the plot but instead, review my experience.
Much like staring at a piece of art on the wall, A Map of Kex's Face is something to be pondered. The story itself is simple yet massively complicated as Kex's mental state breaks down. As a historian, I appreciated Dunn's usage of scholastic criticism and debates concerning the nature of mapmaking as well as the questioned validity of how human history is recorded. Dunn's expertise as a scholar as well as creative ambitions pours off the pages.
If you enjoy Philip K. Dick and writers like Chuck Palahniuk (not Science Fiction but the dialogue feels similar), then perhaps this book will appeal to you. If you are looking for a traditionally told story, then look elsewhere.
Overall, this ambitious piece of prose was a bit outside of my comfort zone but still rewarding. A story with a lasting impression.
You may also like