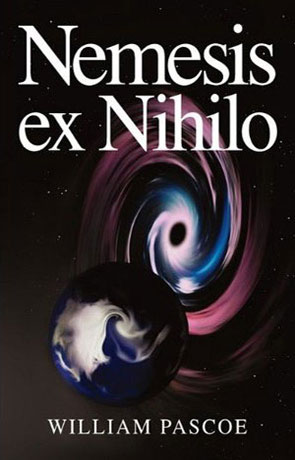 Book details
Nemesis ex nihilo

Publisher:

ISBN:

Published:

October 2009

Pages:

360

Format reviewed:

Paperback

Review date:

01/10/2009

Language:

English

Age Range:

N/A
Nemesis ex nihilo is an apocalyptic science fiction novel and is the first in a two part series (dilogy), written by William Pascoe.

Barry Edwards is a fairly average guy who is working on his PhD in astrophysics at the University of Longminster, England. In 1995, while still working on his PhD he manages to find a new Black Hole, the holy grail of astrophysics for the 20th century astronomer and an event that will secure his Doctorate.

16 years later and Barry is now a Lecturer in astrophysics when a student of his pursued's him to look back on the black hole found so long ago with a view to writing another paper. The only problem is the black hole now appears to be much bigger than he recorded back in 1995, which means either he got his original calculations completely wrong, or it is heading towards the earth, at a high speed.

After rechecking his work, his worst fears are confirmed, the Black hole is heading on a collision, or near collision with earth and all life will be wiped out as a result, in approximately 11 years time.

At first the governments of earth are largely sceptical of Barry's claims, despite being substantiated by a number of experts and Barry is poached by a large and pretty much unknown corporation with an interest in space.

Nemesis Ex Nihilo (meaning worst enemy out of nothing) is a story of broad scope with a quite original apocalypse premise. The novel is very easy and enjoyable to read with a fast pace, intriguing plot and occasionally thought provoking ideas. William Pascoe has obviously carried out a lot of research as the science is very plausible for the most part.

The one negative aspect I found with this novel was the inclusion of "the perfect woman" alien being who's only goal is to speak to the President of the USA before the Earth is destroyed. The method that this alien chooses to pursue this goal, while offering light relief does distract from an otherwise excellent novel.

The novels strengths more than out-weight this one weakness and I for one am really looking forward to the sequel.
Written on 1st October 2009 by Ant .
You may also like