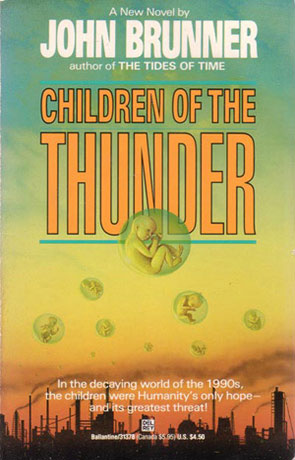 Book details
Children of the Thunder

Publisher:

ISBN:

Published:

October 1988

Pages:

592

Format reviewed:

Paperback

Review date:

15/04/2002

Language:

English

Age Range:

N/A
Children of the Thunder is a science fiction novel by John Brunner.

John Brunner has written a really wonderful book 'THE SHEEP LOOK UP' that I should probably re-read. This book came close but not quite to the despondancy that Earth is supposed to face in the present/near future.

There is developing computers in this book and witch scares about aids making this a little dated, but when the whole think is rolled together then it makes for one loud polluted toxic page fart. Kids. They do the darnedest things!!! This kid Dave is a computer whiz who makes designer drugs that often kill people as a byway. Oh well. He is the product of an artificially inseminated mother and seems to have some kind of charm about him. He looks at you and touches you and you think it's a good idea to just drop down and suck him off, forget about the crap he's pulled. What a card!!

Bad seeds are all over the place. These kids are up to no good committing theft, vandalism, sex ring rackets and murder. It's ok, good kids right....they get away with it! On top of this book is some news blurbs popping up about a General Thrower who is trying to get England into ship shape with bringing back the h bomb and getting rid of anyone not of white euro stock. He is putting the polluted pox cherry on the top of the toxic world trash heap. One guy is just involved with all this as a science editor, he and his aquantance are trying to figure out why these kids, there's a few out there, dont fit into the normal pattern of bad kid with bad situations. They excell in the bad situations and no one seems to do anything about it. What's going to happen since no one can get certain foods to take anymore without a virus beating it to extinction. Animals are getting cancer very easily. Chain reactions of the food chain dying out. Everything will be unaffordable? Trash food is cheap.

I dont like the way Brunner sometimes glosses over the characters and plot developements in one or two sentance bursts. He just drops facts and tidbits in a sentence without flesh sometimes. This book is no exception for me. I find myself rereading a sentance, 'ok so this kid here just blew this rocket up and it was to see if a program on his computer worked. Yep ok, got it'. Although by the end of the book I was going bananas to get to the climax, irregardless. There was just enough meat anyway to keep the bones in my mouth and swallowing the final bone splinter gagged me, but in a way that I was definitly grinning gristle happy teeth.
Written on 15th April 2002 by TC .
You may also like