Myriad
By Joshua David Bellin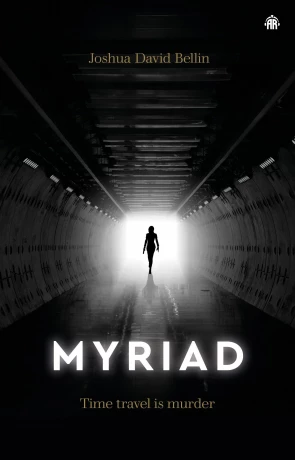 Book details
Myriad

Author:

Joshua David Bellin

Publisher:

Watkins Media Limited

ISBN:

9781915202499

Published:

May 2023

Pages:

348

Format reviewed:

Review date:

23/05/2023

Language:

English
I love time travel stories as you can tie yourself in knots figuring out what is going on. A writer can choose to do one of two things about the complexity of it all. Explore in great depth and try to make the inherent paradox work, or just go with the flow. Joshua David Bellin's Myriad feels like a book that is happy not to explain matters too much, after all the main character, Agent Miriam Randle, never does. However, delve deeper into the book and we learn more about Mariam and her past, and how her past may just allow her to travel to the future.
Miriam seemed to fall into the job working for LifeTime, a private enterprise that specialises in stopping crimes before they happen. They can do this as they travel from the future, seven days earlier to stop it after researching how and why it happened. Who wouldn't want to avoid the messy situation of your business partner being shot by their lover? Imagine all the admin you could avoid. Everything in Miriam's life seems odd, but normal, until one case that does not go quite right. Another time traveller is involved, and they are trying to frame Miriam for a crime she did not commit. Or did she?
Give me a book with time travel that embraces the idea – flaws and all. Myriad does not hide the paradoxical nature of the genre but makes the complexity of it all central to the plot. Both the reader and Miriam start with innocence. An entertaining crime of the week style tale about a pair of private cops investigating past/future crimes. It just works, but how? As soon as Miriam and we start to question how it works, the plot thickens. Rather than run away from the paradox, Bellin leads us towards it.
Suddenly, we are in a time travel crime thriller, Miriam's task to clear her name in multiple timelines, but is this version of her the real one? Myriad touches on the ideas such as the multiverse, an integral part of any time travel story for it to really have any chance of making sense. Each timeline is fixed, but you can leap to an alternative. We visit several places that look the same but are all slightly different.
Like with many a parallel world tale, things do get complex in places and a reader can get lost. Bellin does a laudable job of focussing the story. This is done by sticking with Miriam's life; past, present, and future. Hers is a tale of woe, the introduction to the story is very evocative, a situation that is one of my worst nightmares. The story returns to this instance as it forms a core to both Miriam's personality and the nature of LifeTime itself. The imagery is so powerful that it may be too much for some.
The ideas central to Myriad means that it not just another time travel thriller, but a science fiction story that explores the concept in a new and interesting way. What powers the ability to travel through time? We learn that it is not technology, but something far more personal. A grand speculative concept becomes personal to Miriam and we as readers are there to witness it. The thriller elements, the crime story, but also a journey of grief and growth.
You may also like