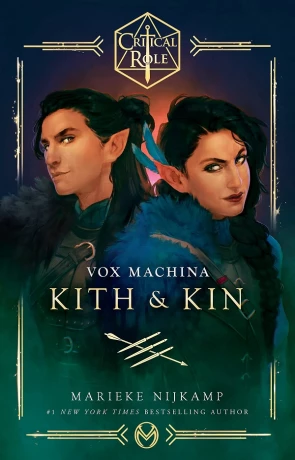 Book details
Critical Role: Vox Machina - Kith and Kin

Series:

Critical Role

Publisher:

ISBN:

9781529101232

Published:

November 2021

Pages:

368

Format reviewed:

Hardback

Review date:

30/11/2021

Language:

English
Books in the series
The Fantasy genre is broader than some people try to make out. I have read Tolkien and there is nothing else quite like that, although many followed the path. Modern Fantasy is often darker and violent, but back in the 80s and 90s there was more of a sense of adventure and magic. The likes of the Dragonlance books by Margaret Weis and Tracy Hickman felt like they were written directly from a game of Dungeons and Dragons. Vox Machina: Kith & Kin by Marieke Nijkamp is modern book based on the works of Critical Role, a team who play D&D. Can it capture the same spirit?
Vex'ahlia and Vax'ildan are Half-Elf twins who roams the lands of Exandria looking for work. With their ability to sneak and weaponscraft, they are often hired for less savoury means. They find themselves embroiled in over their heads when they are tasked with stealing a certain ring. No one bothered to mention the army of the undead or the internal battles that are tearing the town apart. Can Vex and Vax survive long enough to steal the treasure, and should they be taking it?
I mention the wonderful Drangonlance books in my introduction because Kith is one of closest experiences to those books that I have come across for a long time. There is a timeless quality to the fantasy in this book and that is based on the D&D origins, a game that has been in existent for decades. However, this is not just generic roleplay fantasy. Although you cannot see the universe of Exandria you get a sense that it is always there. This is because Kith is built on the work of Critical Role. Beyond the edge of the page, you get the sense of other adventures happening elsewhere.
I have not interacted with the wider world of Critical Role before reading this book and it had no negative effect on the story. Nijkamp wrote a contained story that works for new readers. Nijkamp takes to writing fantasy within this IP brilliantly. The author has taken on all the information from the Critical Role team but brings their own sense of what makes good fantasy. It is a noticeably clear book that guides the reader through this new world without confusion. It is helped by only having two protagonists. Many modern fantasy books are split between countless protagonists, and it can get confusing. Here you have Vex and Vax, often together in a scene, but sometimes apart.
The central relationship between the twins in key. They are rogues, but in the lovable and less stabby way that works in good fantasy. You feel like they are bonded and have a loyalty to one another that beats any other. The drama in the book is often played out by creating friction between the two. Nijkamp also has parallel siblings in the book that makes the theme of brothers and sisters playout several times. We learn why Vex and Vax are bounded so closely through a series of flashbacks that intersperse the story.
Like any good fantasy book, there should be some action and Kith does not disappoint. On reaching their destination Vex and Vax find themselves having to fight the undead and decide which side of a civil war they should be on. The action is violent, without being excessive and the final set piece is a great piece of high drama and action.
I thoroughly enjoyed Kith & Kin as it wore its D&D roots proudly on its chest. It felt like a written campaign that concentrated on only two heroes. There are enough elements of relational drama and action that it also felt more modern than the books of the 80s. I would recommend the book to any fan of fantasy, but especially those that enjoyed the 80-90s era who are looking for a modern equivelent.
You may also like