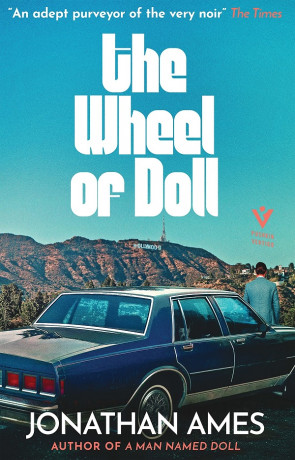 Book details
The Wheel of Doll

Series:

Book 2 of The Doll

ISBN:

9781782277712

Published:

December 2022

Pages:

245

Format reviewed:

Paperback

Review date:

07/12/2022

Language:

English
Books in the series
The humble Private Investigator is a put-upon character, often lonely, whenever they find love, that love seems to end up dead. No wonder so many of them have a problem with drink, gambling, or drugs – perhaps a mix of all three. Few PIs can hold a candle to Happy Doll, he is not even a PI anymore having lost his license, instead operating as a 'security advisor,' same thing but with less legal protections. In Jonathan Ames' The Wheel of Doll he is trying to live the teaching of Buddha, but balance is not found by taking cocaine to keep you on the case and then snorting enough heroin so that you can sleep, but not overdose.
Despite the events of A Man Named Doll, Happy has managed to find some sort of centre, he has planted trees in his back yard as homage to the people he killed and until recently the work was coming in. But, with only a thousand bucks to his name, Happy cannot turn any new job down, even if it too personal. A young woman called Mary wants Happy to find her mother Ines, Happy's former lover. The problem being that Ines has been homeless for years and has not been in contact for months. That and the fact that there is something about Mary, and the strange man that she is shacked up with.
Wheel is a classic feeling crime noir, with the dial turned up more towards eleven than the norm. Events start off like a classic Marlow case, but in 2020 LA. The three sets; the office, the alleyway, and the bar. It follows the comfortable treads that any fan of the genre loves, but this is an Ames novel, so has more of the gonzo about it. The Femme Fatale is a little off, but this is only the beginning of a decent into a darkness that may finally consume Happy completely.
The character of Happy is excellent, ex-military, ex-cop, ex-PI, but still working. He is broken both inside and out, but still has a sense of justice so when he has the chance to save Ines once again, he is on the case. It is not until you see Happy's relationship with Ines that you realise how messed up he is. His love for her seems to be based in the fact that she is the one person more broken than he is. As the story progresses, Happy reveals how bad things have gotten. His sense of balance fails completely, and you have a character driven by a form of madness, doing what it takes; drugs, violence, murder. It does feel in places that as an unfit man in his 50s, Happy may be pushing his body too far, but the book takes on a HI octane, technicolour tone unlike any PI book you have read.
With such a compelling protagonist the story could have been forgotten, but it is a structured crime noir with all the beats that you could hope for. It very much feels like the classic framework of the genre, but the willingness of Ames to ramp up the psychosis of Happy makes it feel fresh. This is a book that will be enjoyed by fans of noir, but also any reader of crime fiction that like their characters balanced on a razor blade and high on coke.
You may also like