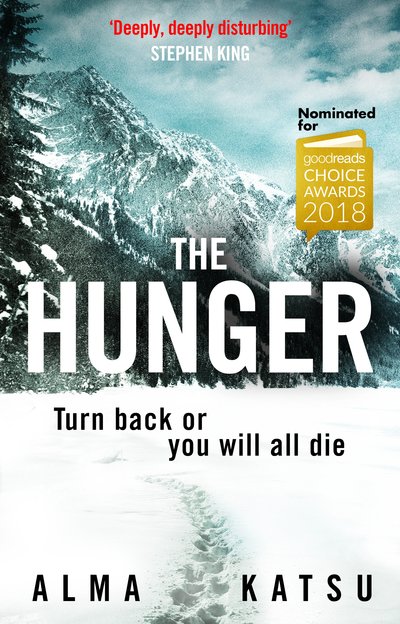 Book details
The Hunger

Publisher:

ISBN:

978-0857503640

Published:

February 2019

Pages:

496

Format reviewed:

Paperback

Review date:

27/02/2019

Language:

English
The hardback version of The Hunger was originally launched last year and it drew some critical acclaim from authors including Sarah Pinborough and Joanne Harris. Both the Observer and the Guardian loved it. Stephen King said of it:
Deeply, deeply disturbing, hard to put down, not recommended reading after dark.
When the King of horror tells you a book is disturbing enough not to be read after dark, it warrants some serious attention. Now the paperback is out and SFBook have been lucky enough to get a copy from the publishers. I'm glad we did.
I've not seen many books that are both based on a true story and yet also firmly placed within the horror genre but this book is about one of the most infamous events in early American colonisation - The Donner Party. In May 1846 a group of pioneers set out from Independence, Missouri to journey towards California. They wern't the first to make this trek and an established route, known as the Oregon Trail was used by most. The Donner Party took a deviation from this path which was known as the Hastings Cutoff after being made a year earlier by Lansford Warren Hastings. Leaving the Oregon route at Fort Bridger in Wyoming the trail took travellers through the Wasatch Range and across the Great Salt Lake Desert, an 80-mile waterless drive.
The trip was met by mishap and delays and the group spent the winter of 1846 snowbound in the Sierra Nevada. With failed attempts at rescue things got pretty grim and some were forced to eat the dead in order to survive. It has been described as one of the most bizarre and spectacular tragedies in Californian history.
There have been a number of comparisons made to Revenant and while the Hunger does have a backdrop of hardship in the wild American frontier, thats where the similarities end. The Hunger capitalises on the harsh,crazy journey much more effectively than the Revenant did - it's a more interesting story too. It's a powerful story, of the 87 people who set off, only 48 survived. The groups was perhaps not best suited for a 2000 mile journey, but this was a journey toward the American Dream and the party included children, desperate adults and the elderly, all looking forward to the promise of somewhere better.
The author builds the scene with some great characterisation, introduces us to the harsh reality those people had to face and then begins ramps up the tension, and then later the horror and then just when you think it isn't going to get any better, slyly introduces some small supernatural elements into the mix.
The Hunger is a thoughtful, powerful journey that celebrates the bravery and sacrifice of the American pioneers while at the same time telling a tale that is horrific and full of genuine tension.
Written on 27th February 2019 by Ant .
You may also like