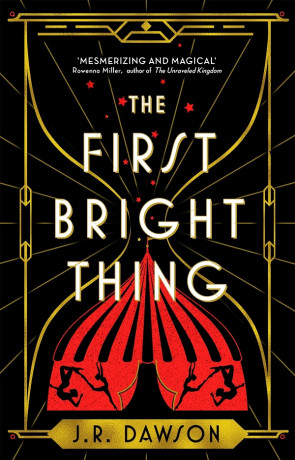 Book details
The First Bright Thing

ISBN:

9781035018192

Published:

June 2023

Pages:

352

Format reviewed:

Paperback

Review date:

22/06/2023

Language:

English
Circuses are magical places; they are also mysterious and occasionally a bit murderous. All the elements that make them perfect for romantic visions of running away and visiting new places each week, are also perfect for someone who likes to snatch victims and not be around when the police start to investigate. What type of circus would you run? One that entertains and helps its audience, or one that terrifies them. J. R. Dawson's The First Bright Things has both types and only one can survive.
Rin is the Ringmaster of a magical circus that appears where it is needed. They pop into existence for one night only. Sat in the audience will be one spectator that needed this display, Rin and her acts will change their life. Rin does good in her life, but dogging her path is a dark circus of malevolent acts undoing as much of the good work as they can. Why is the Circus King so obsessed with Rin, could it be something to do with the Spark, a moment in time when random people were suddenly imbued with powers?
Magical Realism is a tricky beast to tackle in written form as much of the splendour is in the visuals. It is up to Dawson to paint a picture in words and in First they do this by using great characters and creating a sense of a circus family. Rin and her acts all have a Spark that range from the ability to travel through time or do something perfectly the first time they try it. The Circus King also has their own Spark, one that is revealed as the book progresses.
With elements of magic and time travel, this is a book that jumps from place to place; it is the point of the magical circus that it will appear where it is needed, when it is needed. This means that the reader will need to concentrate on the narrative to keep up. To help with this Dawson has produced strong characters, even when you are unsure when or where they are, they have one another and you can understand their predicament.
The story contains time travel, but also flashbacks. These flashback chapters are the most linear and explain the relationship between Rin and The Circus King. It is this antagonist relationship that is key to the book. All the thrills of the fair are enjoyable to read, but this is a darker book than you may first expect. It is a book about the ultimate in gaslighting and the patriarchy. What would become of you if you found yourself in a controlling relationship, only for you to discover that the powers of control are otherworldly?
There is a real sense of magic in First that fans of magical realism will love, but it is also urban fantasy and alternative history. There is a lot to enjoy in the book as it darts between timelines, but I think those that enjoy intense relationships in their books will get the most from this story. A sense of families being torn apart and fears for the future, while you are being chased by the past. It is a book about magical powers, but also about the very real power involved in bad relationships.
You may also like