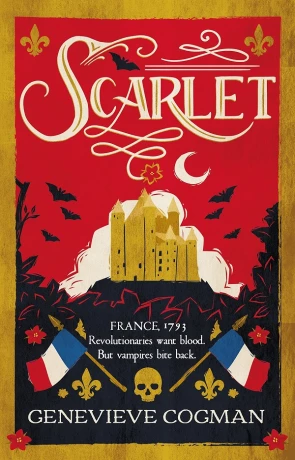 Book details
Scarlet

Series:

Book 1 of The Scarlet Revolution

ISBN:

9780593638286

Published:

May 2023

Pages:

304

Format reviewed:

Paperback

Review date:

11/05/2023

Language:

English
Books in the series
There are many reasons that I am a reviewer and not a writer and one of them is that I do not have that thing in my brain to produce simple, but great ideas. Speculating about the future or past and giving it a twist has made for some great science fiction and fantasy. What about a French Revolution were the peasants rose up against the nobility, but the nobs happened to also be vampires! Not something that I would ever have dreamed of, but it has so much potential in an urban fantasy setting. Genevieve Cogman had the idea and Scarlet is the first book in a series that is reaping the rewards.
Eleanor is a maid with simple ambitions, to become a notable seamstress with her own shop. Currently she works in the household of a noblewoman, who is also a vampire. This is England and the undead are nothing but proper, treating their staff with some sense of decency and bleeding them sensibly in turn. This cannot be said over the water in France where the people have risen and taken control. By fate of her face, Eleanor finds herself on a boat to France with the League of the Scarlet Pimpernel to rescue what remains of the French royal family.
I adore the idea of a Scarlet Pimpernel novel, but with added vampires, it is a concept that fits perfectly with the type of stuff I like to read. The issue being is that the Pimpernel of yore is not the hero he once was. Didn't the citizens of France have the right idea to try and smash the class barriers? This is where Eleanor comes in as the ideal main character. From humble origins we get to see the argument from both sides. She is loyal to the League of the Scarlet Pimpernel and their noble quest, but she can also see the plight of the poor in France.
Scarlet works so well because it is not just a vampire in corsets book, in fact, there are no vampire main character, and they are often just a threat in the background. This is an alternative history where vampires are just an unpleasant fact, they have lived for centuries so have gathered positions of wealth, but they are not allowed a position of central power. The true antagonists are not the undead, but the revolutionaries and their war on aristocrats and anti-revolutionaries.
The story is a fun adventure you would expect from a Scarlet Pimpernel novel. There is something classic about using a look alike in a novel about France and it works again here. Eleanor is central, but she meets a cast of characters to interact with that develops her personality, her core values are the same by the end, but she has learned a lot more about herself. It will be exciting to see what the future adventures hold for her, especially as within her is more power than you would first imagine.
As a work of alternative history and urban fantasy Scarlet is a novel that ticks all the right boxes. It has a simple, but clever premise, a sympathetic character, and some great action sequences. By using the bones of historic events, Cogman can draw the reader one way and then spring a surprise. An entertaining read for a fantasy or history lover looking for something a little different to read.
You may also like