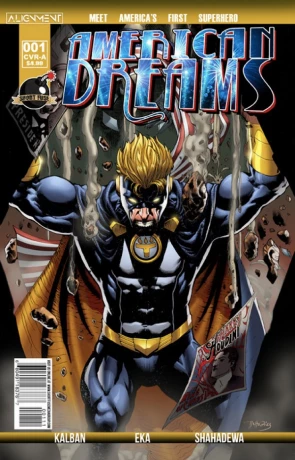 Book details
American Dreams Issues 1-5

Series:

American Dreams

Publisher:

Atlas Studios

ISBN:

Published:

September 2021

Pages:

140

Format reviewed:

E-Book

Review date:

14/10/2021

Language:

English
Books in the series
The Golden Era of comic books began around the Second World War and into the 1950s. It was a time of nationalism as the World prepared for war and then a time of hope and optimism for the US in particular. The US was now the main world power and life was getting a little better for most people. The hope of the likes of Superman reflected this, an American hero for an American age. But what if heroes existed earlier? In the New York of mass immigration and racial tensions. Could a superhero who relies on the purity of the American spirit be able to survive in such contentious times? Daniel Kalban explores this idea in issues 1-5 of American Dreams.
Jake is a Jewish immigrant who along with his family work in menial jobs scrabbling to make a living and to afford their meagre rooms. There are tens of thousands of people just like Jake and his family in the city being repressed and exploited. Meanwhile, elsewhere in the city Edison has decided to develop one of Tesla's experiments. For some reason Tesla decided never to build it. There was a reason for this as once turned on it creates a flash of energy that gives random people in the city superpowers. One such person is Jake. How will be use his newfound powers? For personal glory or to aid those around him?
By setting Dreams during a volatile time in history, Kalban has given themselves a rich playground to write in that is not immediately familiar to the superhero fan. The book has a powerful sense of time and place. As a non-American it may be a little tricky to understand the simmering tensions that acted as an undercurrent to the US at this point in history, but Kalban does a good job of trying to show it. The second-generation immigrants are turning on those that are fresh off the boats, whilst the longstanding American look down on them all.
Things are ripe for a superhero as so many people need help. Jake is different as he is proudly Jewish in an era in which Jews were openly persecuted. Not only does he carry his heritage on his shoulders, but also that of America. He is visited by the Spirit of America who explains that Jake is the American hero. If people believe in America, he can win. This concept is brilliant as it brings the story into the present. The America in Dreams is in turmoil, but many of the same undercurrents still exist in that country over 100 years later. Jake's plight of fighting for the essence of America, reflects on today's struggle for the country's identity.
This connection with America itself gives the series a depth. I can see Jake living a long life and his powers ebbing and flowing as America alters. How powerful would he be during the days of The Depression or Vietnam? How powerful would he be in present day when you would think that many Americans are questioning what the country stands for in 2021.
For readers who prefer just to read an action comic, there are some great fight scenes, especially in the later issues as superheroes and supervillains come to the fore. I would say that this series should appeal to those that like things a little deeper. There are several real-life people who are in the book. History fans will enjoy the way that they are portrayed, although it is not quite true to life in some cases.
The team of Dody Eka, Tebe Andry, Warnia K. Sahadewa and Matt Bowers all do a good job of capturing a sense of history in the illustrations. The comic is wordy in places, but the placement flows well. This is a graphic novel that does not forgo the novel element. It has some reading within and if you have a passing knowledge of American history, you will gain even more from the series. I enjoyed the balance between traditional comic action and history lesson.
You may also like