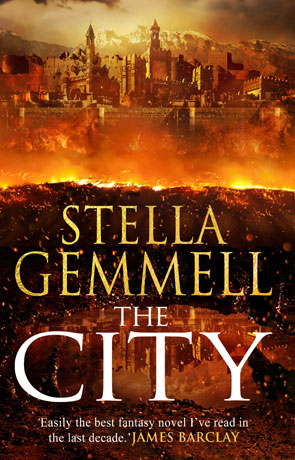 Book details
The City

Publisher:

ISBN:

978-0593070987

Published:

April 2013

Pages:

560

Format reviewed:

Hardback

Review date:

10/07/2013

Language:

English

Age Range:

N/A
This is Stella Gemmell's first solo book, after writing with her late (great) husband for a number of years. I must admit that I am a huge fan of David Gemmell, I've read and re-read most of his works and the majority are still hugely memorable; for me he defined the Heroic Fantasy genre. I don't think it's fair to compare Stella's work to her husbands, they are quite different styles. And yet despite Stella having a very unique style, you can see David's influence, especially in the descriptions of combat and war - which for me added much to the novel. I'm glad of the differences, as much as I love David's writing, if I'd wanted to read one of his books I'd pick up my copy of Legend or Waylander.
So fair warning, do not expect to read a David Gemmell book, not only is this unfair and somewhat dis-respectful to the author but will leave the reader with an undeserved sense of disappointment over a book that is quite frankly one of the best fantasy novels I've read in a long time - and I read a lot.
The story is placed within a traditional, low fantasy setting and events take place around the vast and ancient City which seems to cover a huge amount of land and is locked in an endless war with a implacable enemy, heightened by rebellion and traitorous citizens. There is a size-able cast of important characters and the author does an admirable job of switching between these, from dwellers living in the city's sewers to warriors fighting outside the city walls.
The world building is handled with incredible flair, never disrupting the pace or causing the plot to stumble and the author writes with a casual grace that is both engaging and disarming. The action scenes are vivid, a quality of visual acuity that enhances the imagination, at the same time its also fast and fluid with a realistic gritty savagery. There is however so much more to the book than the impressive action, this is a book of intrigue, a story of duplicity, of revenge and of loyalty. A story that pits love against hate and honour against deceit with an even pace and a slowly building tension to the rewarding ending.
I loved this combination of elements, in part heroic and in part low fantasy but with dark and sinister magic that is carefully kept to a mysterious minimalism. The City is utterly compelling fiction, an awesome example of the genre that evokes real emotion in the reader, simply brilliant.
Written on 10th July 2013 by Ant .
You may also like