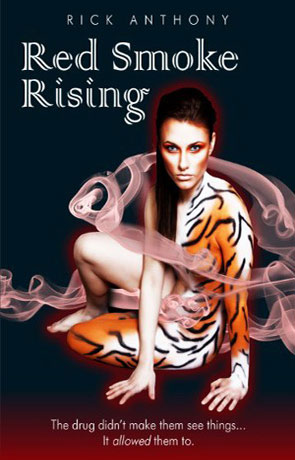 Book details
Red Smoke Rising

Publisher:

ISBN:

Published:

2010

Pages:

320

Format reviewed:

Paperback

Review date:

19/02/2011

Language:

English

Age Range:

N/A
Red Smoke Rising is a fantasy novel and the debut of Rick Anthony.

Over a centrury has passed since the Mia's homeland was occupied and the drug stolen. Once the secrets of Ku became clear, the Nor army was unstoppable and Mia's people were completely overwhelmed and enslaved. Over time a resistance movement has been formed, an army of shapeshifters, Masters and Trademasters who have learned to use Ku to it's most lethal effects. Now they must stand against the Nor Empire and take back their homeland... before their chance is gone forever.

Red Smoke Rising has a strong opening with tightly scripted action and a fast pace that doesn't really let up for most of the novel. At it's heart it is a traditional fantasy tale with a few science fiction elements, most notably the use of physiologically altering drugs. These powerful chemical's allow the imbiber to use their natural or learned talents of shape shifting, healing or the manipulation of matter. As with many drugs, Ku is also highly addictive and quite dangerous. It's also this drug that has resulted in the fantasy creatures present in the novel, trolls, Minotaurs and Zombies (amongst others) are all a result of the use of Ku.

The characterisation is handled well with believable, interesting and in some cases quite like-able people. The world building is quite lucid but fairly minimal. This extends to the prose itself, there is very little excessive use of language, which not only assists with the pace but also keeps the novel shorter than it would otherwise be.

The oppressive almost dystopian feel is handled very well and better than I would have imagined in the fantasy-esqe setting. The main plot device is the drug Ku, it's (mis)use and the power struggle to control it. The story really bounds along at breakneck speed but is always kept in control, at no point did it become overwhelming. If you strip out the idea of the drug though you are left with a fairly standard fantasy novel. One thing that did jar a little is the phrase on the cover "The drug didn't make them see things... it allowed them to", to me this just didn't fit with the novel at all and in my opinion the book would be better without it.

Red Smoke Rising is an energetic fantasy novel with a twist, lots of action and a fast pace.
Written on 19th February 2011 by Ant .
You may also like