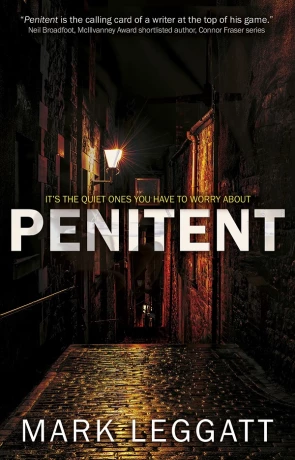 Book details
Penitent

Publisher:

Fledgling Press Ltd

ISBN:

9781912280629

Published:

June 2023

Pages:

324

Format reviewed:

Paperback

Review date:

23/06/2023

Language:

English
Telling a story in the first person means that you are going to want a protagonist that the reader can connect with, but what if that character struggles with relationships? In Mark Leggatt's Penitent, Hector is a brilliant lawyer, but has far more interest in the process than the people. He has never been into court, instead specialising in research. You see, Hector is not an easy person to have a good relationship with, or understand, but as the reader we will get more of an insight into his life than anyone has before when he becomes embroiled in a case of child abuse and murder.
When Hector is asked by the head of his law firm to go undercover and expose a paedophile ring at his old school, his first instinct is to say no as he likes the same routine. He is not being asked, but being told, therefore Hector goes about the investigation with the same level of methodical process that he holds all his life to. Hector likes to predict every potential eventuality, but did he see uncovering a plot that included highly regarded members of the government, or him being framed for murder?
Lawyer investigates case is not the most original or exciting concept for a crime novel, but this is not that book. Leggatt has written a book about a very particular lawyer called Hector Lawless. Protagonists with addictions or neurodivergence are not unusual, but Hector is written in a quite distinctive style. Told from his perspective we get to view the case as Hector does. As well as being intelligent and forward thinking, Hector is also not the most reliable of narrator as he mistrusts his own mind. However, this works perfectly for a crime novel as Leggatt hides all the twists and turns that Hector knew where coming, he just never bothered to tell us. Some of the scenes in Penitent are intense and they are heightened by the way Hector deals with them.
The crime case itself is a nice slice of modern noir with abuses of power and tragic consequences. They would have got away with it, where it not for the fact that they choice to frame the wrong man. Hector is unpopular and seen as odd by his colleagues, but he is also a genius. A trait that many people fail to see.
The opening sections of the book come thick and fast, it takes a little while to get in the rhythm with Hector's mind, but as the book progresses you fall in step. Hector becomes an antihero you can really get behind. Other characters are introduced and the narrative splits, making it a more traditional read. I think this works as Leggatt makes the transition slowly and Hector's personality is challenged enough that even he is changing, and therefore the way be acts and thinks does as well.
Despite reading plenty of crime fiction with neurodivergent characters, Penitent remains something new as Hector is so particular and remains key to the book, it is his story. This interesting and fresh character is placed in an intriguing and dangerous case, and the mix is magic. You can pick up a gritty crime book, but few of them will have a unique protagonist like Hector who lifts the story.
You may also like