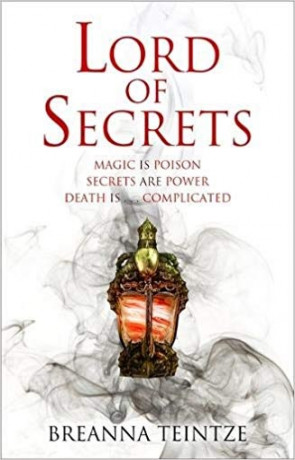 Book details
Lord of Secrets

Series:

The Empty Gods

Publisher:

ISBN:

9781787476240

Published:

February 2020

Pages:

328

Format reviewed:

Paperback

Review date:

06/02/2020

Language:

English
Books in the series
To the ill-informed all fantasy books must look the same. They are about elves and dwarves, just retelling The Lord of the Rings repeatedly, aren't they? Fans of the genre know that this is anything but the truth. Fantasy is an evolving genre that encompasses high and low, fantastical and the more mundane. There may be dragons, but there may as easily just be an alternative feeling Medieval England with a sprinkling of the magical. Lord of Secrets by Breanna Teintze has a tone of its own, both modern, but also evocative of the Dragonlance books of the eighties and is packed with magic.
Corcoran Gray is a freelance Mage in a world that does not allow freelance Mages. His crimes are not murder or larceny, but a need to help those that cannot help themselves. He is now on the run from the powerful Mages' Guild who would like to see him captured, but dead will do. When Gray bumps into Brix, an escaped slave, he should know to keep his head down and leave her alone, but instead his instinct to do the greater good once more comes to the fore. Can be help Brix evade capture, whilst doing so himself and finding his missing Grandfather? Life is complicated for an outlaw Mage.
There are various elements that can come to the fore in a book; the world, the language, the style. In the case of Lord, it is the characters that prove the most compelling thing. Teintze has not created many characters, but those that do exist interact with one another wonderfully and give a sense of fellowship. As the main protagonist Gray invites the reader in perfectly. He is good of heart but won't admit it to himself. Seeing this skilled Mage working illicitly makes for some great action set pieces as the Mage Guild catch up with heroes.
The reason why the classic Dragonlance work of Margaret Weis and Tracy Hickman spring to mind with this book is due to the character interaction and strong reliance on magic. There is a fantastic tit for tat style to the book, not only between Gray and Brix, but also with a powerful and mysterious figure who enters the story later to shake things up. It is hard to imagine that the 1980s was forty years ago, but it was an era full of classic magical fantasy and Lord is evocative of that.
A lot of fantasy tells the narrative from various points of view. Lord does not do this, instead telling the entire story from Gray's perspective. This allows Teintze to fully explore this character and the reader witnesses the struggle that Gray has between doing what is right and what he wants to do. This singular strong narrative makes the story a little linear in places and you feel that you lose out on knowing the Lord of Secrets a little better, but this may be for future outings in the series.
With such strong characterisation, the world building is unable to hold up quite as well. There is obviously a rich history to the world but concentrating on Gray means that we discover a lot about him and not quite as much about the surroundings. With its concentration on character and old school magic, the book has a classic fantasy feel to it. In a genre crammed with dark visions, it is nice to have a lighter palette cleanser. New readers to the genre may find this book a little too light, but long-time readers will appreciate how it evokes the likes of classic Eddings et al.
You may also like